Ever have an idea that you're sure is going to make you rich, only to have forgotten it by the time you get home? Or how about the time you spent all week making a list of things you need the next time you go shopping, only to forget where you put it when the time finally came?  With Simplenote for iPhone (and other iOS devices like the iPod Touch), that's all in the past.
Simplenote is a simple text editing service that allows you create, save, and view text notes.  The service can be accessed in a variety of different ways. The easiest way is to simply set up an account online and use the browser text editor. There is also a desktop application that you can download. This application saves your notes to your computer with the option to sync to your online account, which can be useful if you are in an area without WiFi.
The Simplenote app for iPhone and iPod Touch allows you to write and read notes on the go while syncing to your online account. (I'm actually writing this review with my iPod touch.)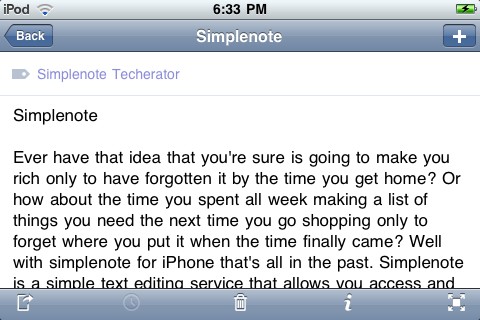 A new feature to Simplenote is the addition of tags – these allow you to set one or more tags to each note. These tags can aid in searching for specific notes. Also, it's now possible to look through older versions of notes you've created.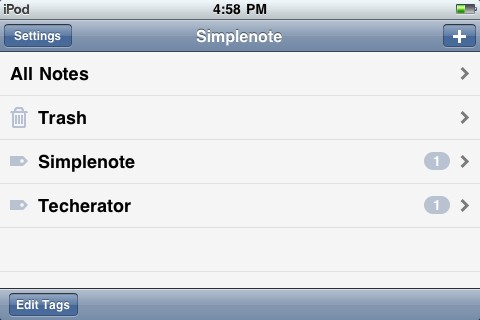 I have been looking to a program/app like Simplenote for quite some time. The whole interface is simple and fast, but it comes with a compromise: you won't find auto formatting or spell check here. Simplenote probably wouldn't be the best thing to write your next big novel on, but it works great for quickly jotting down information for use at a later time.