Update 07/22/10: I've spoken to Verizon reps at corporate stores across the Minneapolis metropolitan area and they have reported that the Droid X is sold out in all stores across the nation.  They explained that the only way to currently get the phone is to order it from Verizon online, which should start shipping on approximately August 3rd or 4th.  The phone will include free overnight shipping.
Well, it accidentally turned into Android week here at Techerator (sorry about that, non-Android people).  I've been running around today trying to find the newly-released Droid X with the same response from everybody: we're sold out.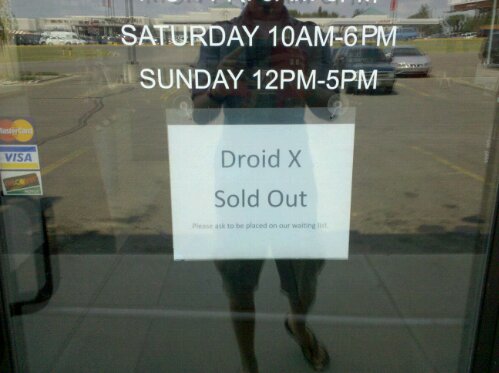 It seems like most retailers, including Verizon authorized stores and Best Buy, sold their entire stock of Motorola's newest, 4.3″ smartphone through pre-orders.  All stores have offered to put me on a waiting list, with new shipments "hopefully arriving next week".
Had any luck finding the newest member of the Droid lineup?  Share it with us in the comments!  My search continues…