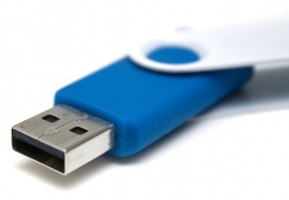 Since many ultra-portable laptops (commonly known as netbooks) do not come equipped with optical drives, users are typically forced to purchase an external optical drive to install an operating system such as Linux.  In this guide, I'll show you how to easily install a Linux operating system with a USB flash drive and a piece of software called UNetbootin.
If you want to install Windows instead, check out our previous guide: How to Install Windows from a USB Flash Drive.
UNetbootin, which stands for Universal Netbook Installer, is a program for Windows and Linux that can create a bootable USB drive for many Linux distributions.  UNetbootin can not only use an existing disc image (.iso) to create a bootable USB drive, it can also download dozens of Linux distributions through a handy dropdown menu.
Step One – Installation
Download and install UNetbootin.  When you open the program, you will presented with the following window: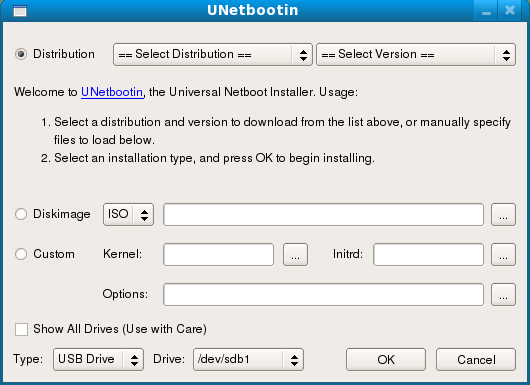 Step Two – Select a Linux Distribution
UNetbootin can automatically download dozens of Linux distributions.  With the Distribution button selected, use the dropdown menus to choose your favorite distribution and version of Linux.  Be sure to read the installation notes if they are available.
If you already have a Linux disc image (.iso) downloaded, click the Diskimage button and select the image file.
Step Three – Formatting the USB Drive
At the bottom of the main screen, verify that USB Drive is selected and then select the drive you would like to use (Note: All data will be lost on the selected drive).  When you are ready to create the bootable USB drive, click the OK button.  If you chose to download a Linux distribution in Step Two, the duration will vary based upon your internet connection speed.
Once the process has finished, you can now use your USB flash drive to install Linux.
Using the USB Boot Drive
Most modern computers support using USB drives as a boot device, but if yours does not you can check your manufacturer's support site to see if a BIOS update is available.  To set your USB drive as a boot device, you can typically press the ESC key just as your computer turns on and select the drive from a list.
If pressing the ESC key doesn't work, you may have to enter your computer's BIOS to manually set the drive as a boot device. You can typically access your computer's BIOS by pressing DEL, F2, F10, or F12 at system startup, but refer to your manufacturer's support information for more details.
Installing an operating system from a USB flash drive is much faster than using an optical disc.  In our tests, we were able to install Ubuntu in less than six minutes which is much faster than performing an installation with a LiveCD.
Have a better method of installing Linux on your computer?  Let us know by commenting below.