Considering the sheer vastness of the Google Play marketplace, one can assume that there are countless apps that cover the realm of note-taking and to-do lists.  So it is not surprising that Google would try to architect a note/task app in their own fashion.  The result of this endeavor is Google Keep; an Android app that is a depository for ideas, notes, and to-do lists.
The app can be found (as expected) on the Google Play Store.  Here's a breakdown of its inner-workings:
Google Keep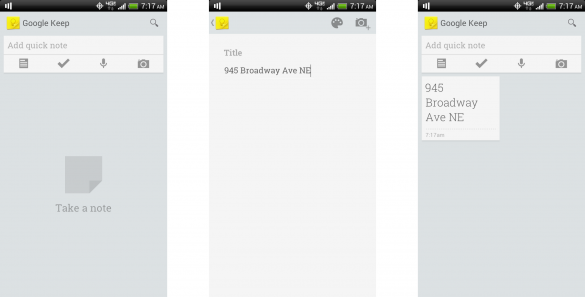 The main application menu at first appears like the picture on the left: empty.  The simplest way to add a note in Google Keep is by using the "quick note" option at the top.  Once the note is created, it will appear on the main menu.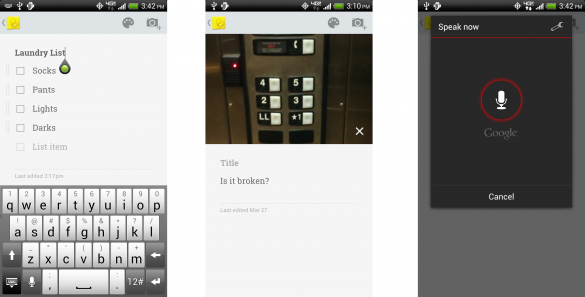 Underneath the quick note option are the buttons for the four main note types in Google Keep: a simple note, a to-do task list, a voice-to-text note, and a picture caption note.  Each of them are self-explanatory by namesake, so the minor details regarding their operation shall be skipped.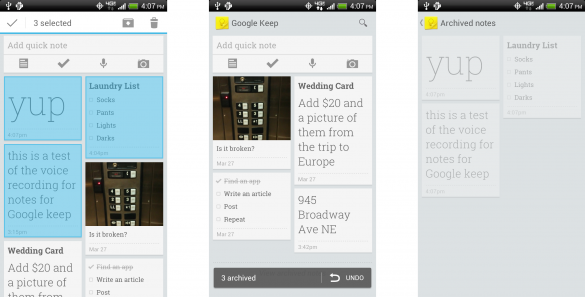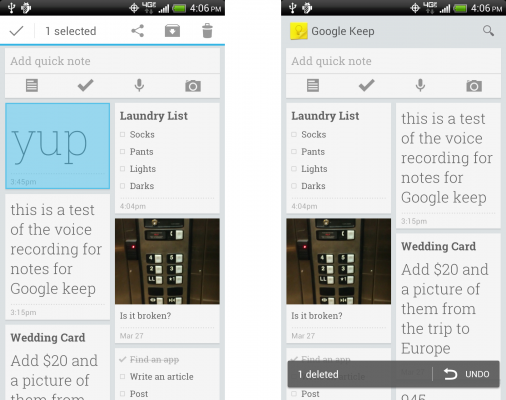 As notes get composed, they will fill up the main menu screen.  Existing notes can be modified by tapping once to open them or by holding to select (they turn blue).  Once one or more notes are selected, one can choose to delete them, share them, or archive them for future reference.  Notes that are in the archived folder can return to the main screen by holding and selecting it again and hitting the archive button again in the top right.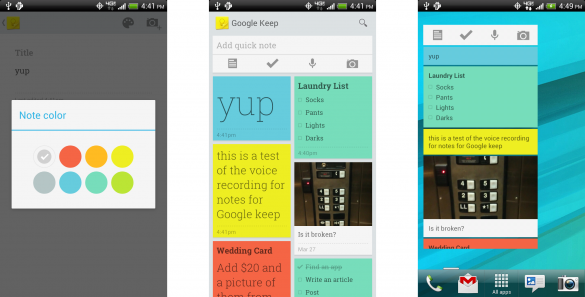 If white seems a bit drab for a note color, do not fret; they can be colored to one's liking.  Google Keep can also be placed as a widget on a home screen for quicker viewing and editing of notes.
The Google Drive Bit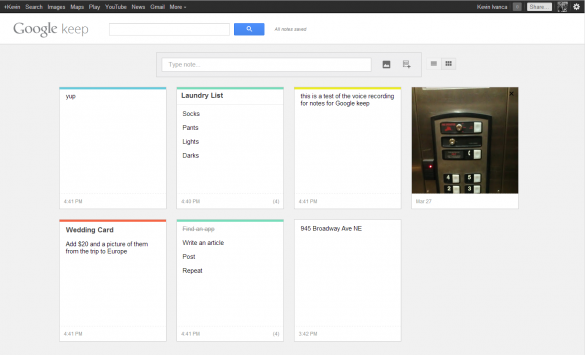 Now colors are nice and all, but what else does Google Keep have to offer?  Well, very time a note is created, modified, or destroyed inside the Android app, it automatically syncs the changes with your Google account and placed them in Google Drive.  Because of this, notes can be accessed via a browser anytime from this web link here.  Likewise, if notes are modified while on the browser webpage, they are automatically updated when Google Keep is accessed again on Android.
Conclusion
Got a random thought or task that needs retention?  Let Google Keep help you with that.