Like many people, I find myself having to type the same bits of text many times throughout my working week.
Various applications already have ways of reducing the labor involved in this. For example, email clients have auto-signatures and word processors have automatic text facilities.
The Mac OS X operating system itself is strong when it comes to automation. AppleScript and the sophisticated Automator utility help many power-users accomplish frequently repeated tasks more efficiently. However, none of the inbuilt features of OS X or my installed applications did exactly what I needed – so I went on the hunt for a suitable solution.
Enter TypeIt4Me, a simple utility from Ettore software. TypeIt4Me allows you to input all your frequently used phrases and chunks of text and assign a short text string to each of them. The program runs in the background and places a small icon in the OS X menu bar. All you have to do is type your chosen string in ANY application and your chunk of text appears, as it you have typed it yourself.
Having used the product for a few months, I have around 20 frequently used blocks of text configured. While this may not sound like a lot, each is something I need to type many times throughout a typical day. For example, a series of three character shortcuts instantly type the full URLs of each website I work on. Given that I probably comment on 20-odd forum threads each day and need to include a URL, that's already plenty of typing saved.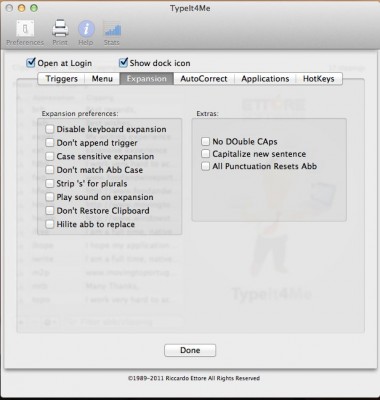 As a freelancer, I often have to apply for jobs. When I sign off an email or online application, I now need only type "ihope" and the utility writes "I hope my application is of interest to you and look forward to hearing from you soon." I certainly don't miss typing that several times per week! I also have entries for various sign-offs such as "many thanks," "best wishes, " and "kind regards."
TypeIt4Me includes comprehensive options to assign hotkeys, control exactly how text snippets are used and even to change the behavior of the text macros within different applications. So far, my chunks of text appear happily regardless of what application I am using, the only exception being when I am using my Windows virtual machine. While I would like them to work within that environment, I can imagine the technical challenge involved so don't expect to see this feature any time soon.
As I said in my write-up of Evernote, I am a cynical techie who isn't impressed with bells and whistles. I judge applications purely on whether they help me better achieve my day-to-day work. TypeIt4Me scores highly on this basis and I wouldn't want to be without it. If you frequently need to type the same text across a range of programs, it's an essential purchase.