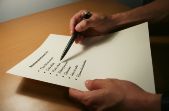 One of the the main concerns people have about trusting their data to a cloud service is whether or not they can get their information out of a  particular service. Some services do a good job. Others … well, not so much.
Google is trying to make backing up your data easier, with both Google Takeout and the Data Liberation Front. Both are good initiatives, but they don't cover all of Google's many applications. One that's missing is Google Tasks, the to do list that's part of Gmail.
But a third-party developer has filled that gap. Using Google Tasks Porter, you can download your to do lists quickly and easily.
Let's take a look at how to do just that.
Getting Started
Head over to the Google Tasks Porter site. You'll be asked to give the site permission to access your tasks. That permission is in effect until you revoke it.
Once you've granted Google Tasks Porter the necessary permissions, you can take a snapshot of your tasks. A snapshot represents your to do list as it stands at this moment. That includes the tasks you've completed and the tasks still on your plate.

Click the Take Snapshot button. It can take some time to build the snapshot. Depending on how many tasks you have, it can take a few seconds to a couple of minutes.

Downloading Your Snapshots
After you click the Take Snapshot button, you're taken to a page that lists your snapshots. There are four links that you can click:
HTML with microformat, which creates a nicely-formatted HTML file
iCalendar, which downloads a file with the extension .ics that you can import into most Web-based or desktop calendar application
Outlook, which downloads a comma-separated values (.csv) file that you can import into Microsoft Outlook
Remember the Milk, which lets you email your task list to a popular Web-based task management application
If you click Remember the Milk, you'll be asked for the email address that you use to log into Remember the Milk and the name of the Remember the Milk task list to which you want to send the information from Google Tasks.

Anytime that you want to review your snapshots, just go to the main page of Google Tasks Porter and click the View Snapshots button.
Final Thoughts
Google Tasks Porter provides a much-needed service for anyone who uses Google Tasks. Whether you want to back up your data or have decided that Google Tasks isn't right for you and want to move your data elsewhere, Google Tasks Porter makes it easy to do just that.
Photo credit: xololounge