With practically everything available at our fingertips via smartphone, "What could the mobile market possibly do next?" I thought. We have 1 GHz processors in most new smart phones, an incredibly powerful, ever-growing Android OS, the simple and beautiful iOS 4, turn-by-turn navigation, mobile Google Docs, 4G wireless connections, video chat, 720p video recording, 1080p video output via HDMI, and a gigantic avenue of applications. It's everything I ever wanted in my phone.
Then I started thinking:  My desktop computer usage has been cut in half since I purchased a Droid Incredible. Since my phone practically does everything I need, on a daily basis, what more could the mobile world offer me?  Motorola, yet again, had an answer to my question:
Motorola claims the Atrix is the world's most powerful phone. Okay, but I've heard that before. But when they add, "and the Future of Mobile Computing," what do they mean? I kept reading article after article and watched video after video on the Atrix. I couldn't believe it. Motorola has brought the mobile market into the future.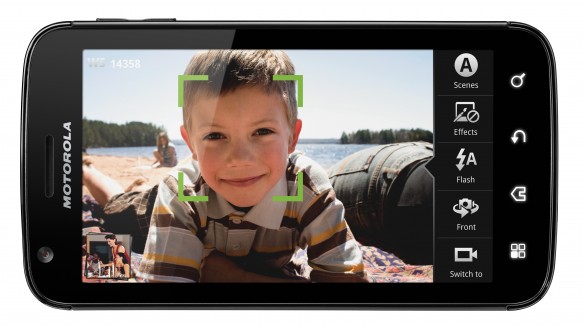 The Motorola Atrix is a dual-core Nvidia Tegra 2 powered smartphone with a 4-inch qHD (quarter high-definition) screen with a resolution of 960 x 540, 1 GB of ram, a huge 1930 mAh battery, a 6 mega-pixel rear facing camera and a front facing VGA, a fingerprint scanner, and Android 2.2.
These stats are trivial at CES. Almost every device has similar specs coming out this quarter, but the specs are not that mind-blowing unless you lived under a rock for the last year. With the Atrix, though, Motorola sold me with its Web-top. (I know, it's a terrible name for a future in the mobile market.)
Web-top is Motorola's idea of the future of mobile computing. Right now, the average technologically savvy person carries at least two devices, a laptop and a phone. The reason is our phones, although very powerful, cannot run full operating systems like Windows, Linux, or Mac. Or at least they couldn't before Motorola's Atrix. Motorola has taken those two devices and created one device to cater to both mobile and desktop users under the Web-top platform. The Atrix will function as a regular, yet powerful Android device on a daily basis. Yet when you get to home or to the office, you plug the Atrix into a "dumbtop," also known as a laptop shell with only a battery and a screen. It has no processor.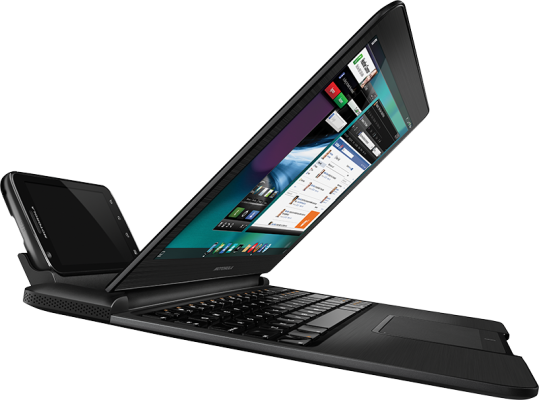 This is where the magic happens. Within seconds, the "dumbtop" comes to life. Using the processing power in your Motorola Atrix and charging it at the same time, Web-top opens into a customized Linux OS with the desktop version of Mozilla Firefox and other supported programs Motorola has built-in. You can navigate through this interface via the typical laptop touch pad and full keyboard.
Using Web-top, you can go about the daily work you do with your laptop or desktop. At the end of the day, pull the phone out, go home and load the EXACT same environment you were running at work to your screen at home with either the laptop dock or the HDMI dock that allows you to connect to any of your HDMI enabled screens. The Atrix will remember everything you had open last! It becomes, in every sense of the word, a "pocket computer." The very concept makes your phone become your ONLY powered device you need anywhere.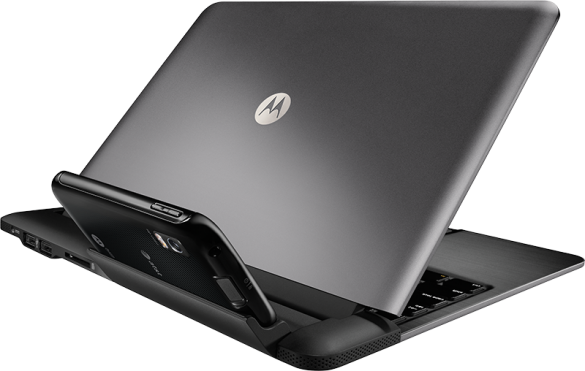 Conclusion
I think I see the future of mobile computing clearer now than ever before. It will not need to be called "mobile" computing anymore because everything will be mobile. The fact that Motorola can get Linux to run well on a Tegra 2 processor means that all those hard-working open source Linux gurus like the Ubuntu team will be hard at work very soon to create an incredible operating system that could be used in the amazing and powerful future of mobile computing. Microsoft also sees this as they are building their Windows platform to run on ARM architecture now.
This phone is available for pre-order through AT&T, but just keep in mind that smart phones are pricey when they first hit the market. The Atrix sells for $199.99 with a two-year contract and a bundled package gives you the laptop dock as well for $299.99 with a tethering add-on and after a $100 mail-in rebate. If you don't want to pre-order, the phone should be available in stores on March 6.
More Information