We've all done it; emailed yourself a note or reminder while at work or on the go, then weeding through your bursting inbox trying to find it. There is the option of a mailbox search with keywords, but it's pretty much a bust if you can't find something in 10 seconds.

With the birth of the smartphone, this act of note-taking has become even worse, as using the inbox search option on your phone is more painful than admitting to liking a certain teen idol with a prepubescent voice and hippie hair.
Have no fear.  You can keep your idol obsession in the closet and manage to stay organized quickly, securely, and all in one place, no matter where you go.
Enter Catch Notes.
Catch Notes is the quintessential note keeper of the universe, and there are several ways to input a note (or an infinite number of 'em). From basic browser to mobile input, and even an option to email notes to your Catch account for later, this application goes above and beyond the old fashion pen and paper method, syncing your notes and account to any device of your choosing and making it available 24/7.
Available for Android, iPhone and iPad, this free (yes, FREE!) application not only keeps notes, it gives you the option to share those notes (in text or link) through several different methods:  email, SMS, Facebook, Twitter or any application on Android that accepts shared content.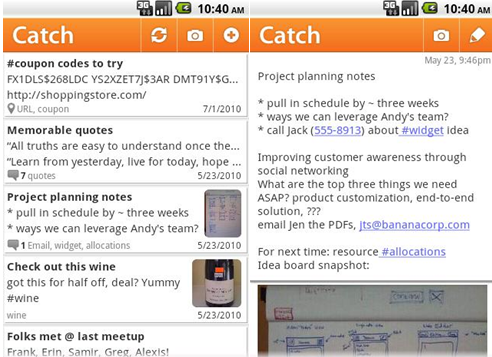 Don't have a smartphone? Catch Notes also has browser extensions available for IE8, Firefox and Chrome, so now you can "bookmark" your favorite Techerator articles in Catch Notes and have them all in one place versus having to add them to your "Favorites" and sort it out from there.  And for added security, Catch Notes gives you the option to set a four-digit login PIN to keep your notes secret and safe in case anyone tries to light-finger your precious cargo.
There are other note taking applications out there, like Evernote and Springpad, but if you want something light, quick, and easy to use, Catch Notes is your best bet.  Of course, it's all preference. As an aspiring novelist (but current spotty blogger) I use Catch Notes to "write down" my story ideas. Not only can I write it down, but I can also attach photos, just in case I find something that inspires a project or a piece. The downside is that it only allows one photo per note.
On the brighter side, though, if you have an existing Google or Facebook account you can simply use it to login to Catch Notes versus creating another account you may not use if you find Catch Notes isn't for you.

Lastly, I can't help but be bummed out that Catch decided to change its name a few months ago (September to be exact). Formerly known as "3banana," complete with a Chiquita label, the company decided on a name change to better fit its mission and embody the functions of the app. Its current icon?  A simple orange box with a white "C." Simple and easy, just like Catch Notes.
For more information on Catch Notes, visit their website or their blog to see what progress this app is making. It's a great way to stay in the loop on upgrades and new features.