The world of online storage is a growing one, with different services and new features coming out all the time. Quanp, pronounced "Quan-Pah", is one which I've found to be quite useful not only for its online storage, but the way in which it organizes and displays your files on your desktop.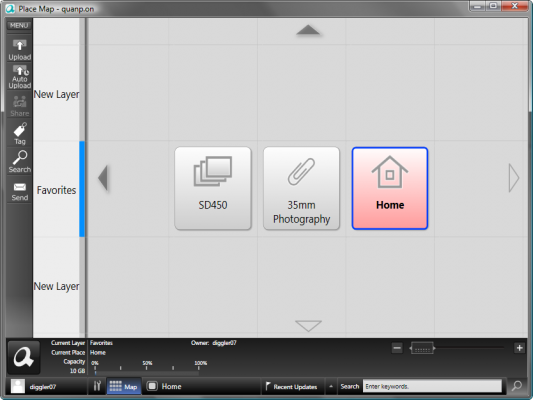 Quanp, short for Quantum Papers, couples its online storage features with an easy to use and visually appealing desktop software. This software enables you to store files in a folders called "Places". After creating a Place, you can simply drag and drop files into it and view/sort them with 3D thumbnails. While loading your files into a Place you're given the opportunity to add tags and descriptions to them.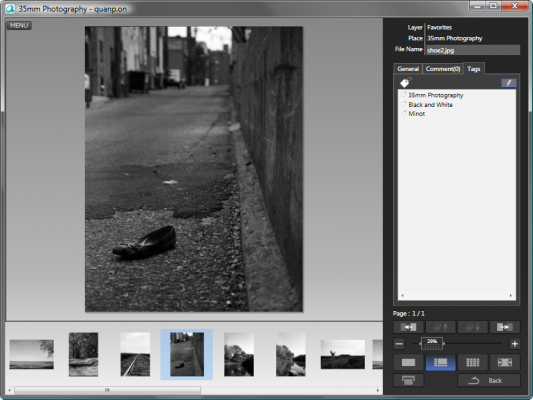 I found especially convenient that Quanp doesn't require the physical files to be moved or copied when you load them into a Place. For example, I have a lot of pictures stored on my computer. When I load them from my camera, they are automatically sorted into folders by date. This is semi-useful if I can remember when I took whatever picture I happen to be looking for, but it doesn't really do me any good if I want to search through only pictures of family, or landscapes.  If I load all of my pictures into the Quanp desktop software, however, I can sort my pictures in a number of different ways while keeping my files and folders neat on my computer.
What I find to be the easiest and  most useful option is tagging. When I'm loading my pictures onto Quanp I can tag pictures/files based on what they contain. After they are tagged, I can use the included search options to search for pictures I've tagged as landscape, family, or landscape and family. The results are then brought up as thumbnails in 3D space which makes them easy to quickly browse through.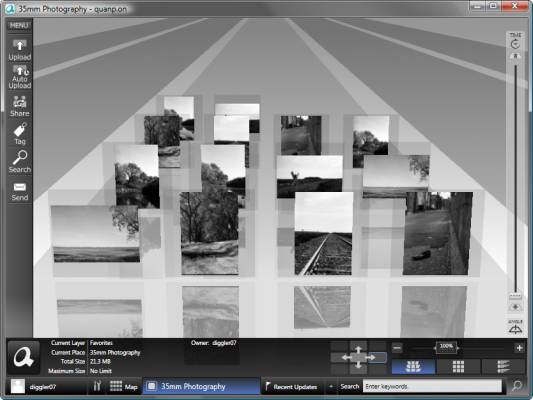 If you find yourself searching for a specific tag or groups of tags often, it might be more convenient to make a different Place for those files.  For example, I take all my pictures tagged Landscape and put them in a Place called Landscapes. I can then simply click on the Place when I start Quanp to view all my landscape pictures. Even though a file my be stored in two or more Places in the Quanp software, the actual file remains unmoved from its original location.
All of this so far has been only what happens on your computer. Along with all of the aforementioned awesome features, Quanp is an online storage solution as well (similar to previously covered Dropbox). Quanp will upload any files you load to the desktop software onto the service's website. You can do this by manually pushing the upload button or you can set up and automatic uploader that will check for newly added files every so often (you can change the how often in the settings).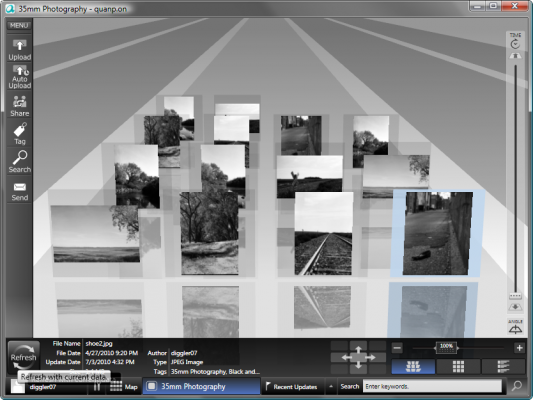 Quanp's Microsoft Office Add-in
Quanp has recently released an Add-in for Microsoft Office which can be downloaded at http://us.quanp.com/about/addin. I've never used an add in for before so I was a little wary about how it was going to work.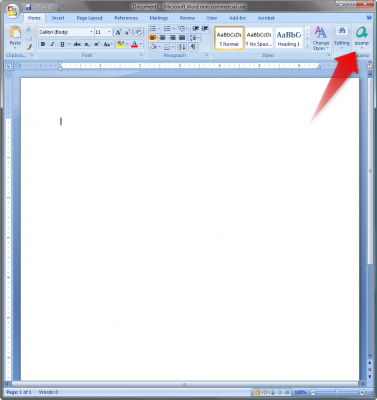 Run the installation file and follow the install instructions. Once the add in is installed, it will appear on the right hand side of the Home Ribbon.  In this article, I'm using Office 2007 on Windows Vista, so it's location may be different depending on the Microsoft Office you use.
Clicking the Quanp button will bring up a list of actions such as upload and download. Clicking download will prompt a log in box for Quanp. After entering your information, a box pops up asking you what Place your file is stored in. When you select the appropriate Place from the drop down menu, all the Office documents in the Place are displayed. Double clicking a document will open it up in Microsoft Office. You can also save and upload documents from Office directly to your Quanp account.
Quanp Send for Windows
Quanp Send is a widget for Windows. It allows for quick sending of large file (500MB max) to other Quanp members and to email. To use it, simply drag a file and drop it on Quanp Send and a dialog box will pop up asking you who you want to send it to. You can also assign tags and descriptions to the file before you send it off.
Conclusion
All in all, I really like Quanp. I've always been a big fan of online storage services, and up until using Quanp, the problem has been that I had to move or copy the file I wanted from its original place on my computer to a dedicated shared folder. I enjoy using Quanp's desktop software for its easy-to-use search options and quick browsing.
The only problem I had with Quanp was at first when I loaded files with the software, I couldn't get them to show up.  Here's the fix: there is a refresh button on the left side you may have to push to get recently files to appear on the software.