If you have several applications open simultaneously in Windows XP, you may find yourself wishing you could rearrange their order like tabs in your browser.  This feature isn't included in Windows XP by default, but you can easily add it with Taskbar Shuffle.
Taskbar Shuffle is a tiny application that quietly sits in your system tray.  After installation, you can move any item in your taskbar to a different location by clicking it and dragging it to a new location. 
You can even rearrange items in your system tray by dragging and dropping them.

On top of adding useful functionality to your system, Taskbar Shuffle allows you to customize application grouping in the taskbar (useful for when you have multiple instances of the same application open).   This program also adds the option to close applications in the taskbar by middle-clicking them, which is the same way your browser handles closing tabs.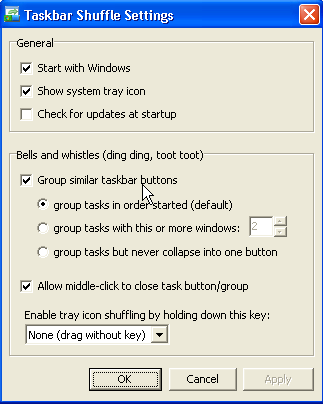 Taskbar Shuffle is a free download for all versions of Windows (except Windows 7) and is available for both 32 and 64-bit.