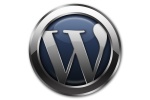 In the second part of our Essential WordPress Plugins series we will be taking a look at some plugins that are designed to make managing your WordPress site easier.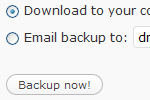 The WP-Database Backup plugin automates the database backup process and puts your mind to ease about the safety of your blog. WP-Database Backup can perform a manual backup, allowing you to save it to the server, download it to your computer, or email the backup to you.  WP-Database Backup also allows to schedule hourly, daily, or weekly backups and have them automatically emailed to you.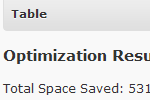 As your WordPress blog continues to grow, your database can become cluttered and will slow down your blog.  The WP-DB Optimizer plugin is a simple plugin that allows you to optimize your database from within the WordPress Dashboard.  This is the same form of optimization that you can perform from within another database management software such as phpMyAdmin.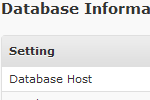 A combination of the above plugins, WP-DBManager increases the amount of control you have on your database from the WordPress Dashboard and provides features similar to those found in phpMyAdmin.  WP-DBManager is a powerful database manager that allows you to add, drop, or edit tables.  WP-DBManager also can optimize, backup, or restore your database, and has the ability to schedule backups and database optimization.  If you're looking for total database management, then I suggest you give WP-DBManager a try.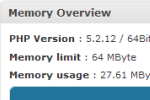 Many hosts may limit your PHP memory usage to keep your site from affecting others within a shared hosting environment.  As you install more WordPress plugins and add more functionality to your site, the amount of consumed PHP memory increases.  WP-Memory-Usage is a WordPress plugin that allows you to see how much memory your WordPress installation consumes.  WP-Memory-Usage simply adds a single bar graph to your WordPress Dashboard that give your important information regarding PHP and the amount of memory being used.  If you notice memory usage is high, disable a WordPress plugin or two and check the memory usage.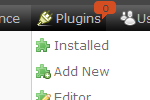 The default WordPress installation includes the WordPress menu vertically stacked on the left side of the screen.  Clicking menu options and waiting for the page to reload to display the sub-menus can be quite frustrating.  Ozh' Admin Drop Down Menu for WordPress changes the way WordPress menus work by displaying them horizontally across the top of the screen which allows for a wider WordPress Dashboard.  The Ozh' Admin Drop Down Menu also features mouse-over drop downs so there is no more reloading to display sub-menu items, saving unnecessary clicks and page loads.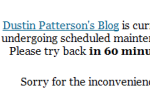 When performing work on your WordPress blog, it may be necessary to have some downtime.  The Maintenance Mode plugin works by blocking users from visiting your site when downtime is scheduled.  Administrators and other WordPress users will still have the ability to login to the Dashboard.  When in Maintenance Mode, visitors are presented with a message saying the site is down for maintenance.  Logged in users are able to access every part of the site while in maintenance mode.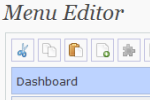 If you've installed a few WordPress plugins on your site, you may notice the addition of new menu buttons.  Depending on the WordPress plugin, a new menu item may be added to the main menu or an item of a sub-menu.  As more plugins are installed, your WordPress menu may become cluttered with menu buttons that you never use.  The Admin Menu Editor plugin allows you to edit your WordPress menus with a convenient drag-and-drop interface.  You can also create custom menus to access any part of the WordPress Dashboard.  If you mess up or simply don't like your changes, Admin Menu Editor allows you to return to the default menu configuration.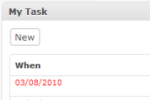 WP-Task-Manager is a plugin that allows you to create and manage a virtual to-do list.  This plugin creates a task manager within the WordPress Dashboard, allowing you to create and assign tasks that can be completed by your contributors.  WP-Task-Manager includes feature such as due dates, commenting, and the ability to control who can modify tasks.
Check back later as we continue our Essential WordPress Plugins series when we look at plugins for tracking your website's statistics.
What WordPress plugins do you use to administer your WordPress site?  Let us know by commenting below.