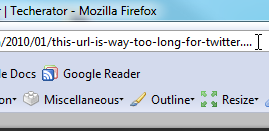 Full-length URLs have nearly become an internet faux pas since the advent of sites like Twitter where character restrictions reign supreme.  Sending a normal URL in a tweet is the digital equivalent of tripping over your own shoelaces, and most people have adopted a "favorite" URL shortening service like bit.ly, tinyurl, or is.gd.
Google recently entered the URL shortening business offering the Goo.gl domain – but why would you want to switch from your current shortener of choice?
Google's biggest advantage over their competitors is their sheer size – they can guarantee the shortened URLs will always work and be as fast as possible.  We've learned from other URL shortening services that if they ever go down (or get permanently shut down) you'll be completely unable to access the original link.
The only real downside to Google's shortening service is they haven't made it really easy to shorten your own links yet.  You can have Goo.gl links created automatically using Feedburner if you're a content publisher, but the average person was required to install Google Toolbar to create their own links.
But not anymore!
Creating Goo.gl links in your browser
Firefox
Firefox users can simply install the goo.gl lite add-on to create shortened URLs.  After you've restarted Firefox, go to View –> Toolbars –> Customize and drag the big "G" icon anywhere on your toolbar.
Once the Goo.gl icon is in your toolbar, just click it and the shortened Goo.gl URL will be copied to your clipboard!
Google Chrome
Google Chrome users can install the goo.gl url shortener extension to create their own shortened URLs.  After installation you can optionally choose which services to share links with (like Twitter, Facebook, and Gmail) then click Save & Close.  You can now click the Goo.gl shortener button to create a shortened URL and it will automatically be copied to your clipboard.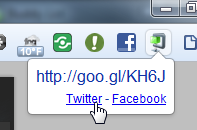 Bookmarklet
If you're (gasp) not using Firefox or Chrome, you can simply drag the following bookmarklet to your bookmarks toolbar in any browser to have instant Goo.gl creation power.
Shorten with Goo.gl (created by Matt Flaschen)
What do you use for a URL shortener right now, and do you think you'll be switching to the Big G to shorten URLs in the future?  Share with us in the comments!