[ad name="Amazon Apple iPod Touch 32GB"]
[ad name="Amazon Motorola Droid X"]
A friend of mine recently asked if she should buy an iPod Touch or a Motorola Droid.  While these are two completely different products, one being a wifi-enabled MP3 player and the other being a full-featured smartphone, a choice definitely still exists.  So without any further adieu, here's what I had to say about the two of them!
I bought my 16GB iPod Touch two summers ago and I used it like crazy.  Since I didn't have a smartphone back then, I basically used it for everything.  The apps are fantastic, battery life is great, and let's not forget that the Touch is still a really nice MP3 player.
On average, I used my Touch 90% of the time for apps and the internet, and the other 10% was for music/audiobooks.  The one real downside of the Touch is that a wifi-only device, so once you hit the road you won't be able to use most of the internet apps.
I bought a Droid about two weeks ago.  It's amazing.  It's exactly the type of phone I've always wanted – highly customizable, very fast, and has huge potential for growth.
Since you're trying to figure out which one to buy, here's some things to keep in mind about the devices: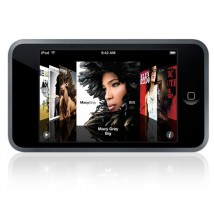 – Both have apps.  Touch has way more, but Droid's app store (called the Android Market) is steadily increasing.  The nice thing about Android phones is that the app market is completely open, which means there are no barriers to entry for a software developer (unlike Apple, who requires an arduous approval process).  If a developer wants to make something for Android, boom, it's done.  Huge potential for growth here.
– Both support the basics.  They can both play music (although the Touch is probably more refined when it comes to a straight MP3 player).  They both have apps like Facebook, Twitter, YouTube, email, web browsers… pretty much anything you can think of.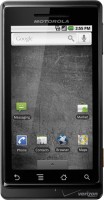 – Battery life will be much longer on the iPod Touch, but keep in mind the Droid is also a full-featured cell phone which uses most of the juice.
Here's where they're pretty different:
– Touch has Google Maps, but no GPS (and you can really only use the maps when you have a wifi connection).  The Droid uses your cellular network and has a built-in GPS, so not only can it show you maps, it can also do turn-by-turn navigation (which is free!).  It's a straight-up GPS, and I used it on my last trip to Minneapolis as a total replacement for my old GPS.
– Droid has a cellular network. This was implied before, but this means you've got an internet connection anywhere where you go.  Verizon's network is really impressive, and you'll browse websites on the Droid just like you would at home.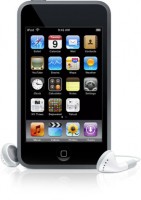 – Touch is much simpler and easier to use.  For a person like me this can be frustrating (I like menus! And settings!), but you can't beat it for ease of use and using it for what it was intended – enjoyment.  The Droid, on the other hand, lets you customize basically every facet of the phone (and the things you can't change can typically be modified with apps from the Android Market).  This is a blessing and a curse – even I found the Droid to be a little daunting when I first started using it.
– Droid has a camera (5 megapixels), the Touch has no camera.
– Both are touchscreen devices.  They both have "virtual keyboards", which are keyboards on the touchscreen, but the Droid has an actual slide-out physical keyboard.  I've never had one of these before and I really like it.  A lot of people complain about the keyboard though, so your mileage may vary.  The Droid offers both landscape and portrait virtual keyboards in almost all applications, but the Touch only offers landscape virtual keyboards in applications that support it.
– As for size, they're about the same dimensions but the Droid is much thicker (again, the cell phone is the reason for this).  The Droid is heavier than the Touch.
– Droid supports a bunch of Google services out-of-the-box (Android was designed by Google).  This means that Gmail, Google Calendar, your Google contacts, and several other services are automatically synchronized to the phone and are deeply integrated.  This makes it really easy to manage your data.  Touch can do these things too, but it's more "added on" and not as smooth in my opinion.
– Total cost of ownership: the iPod Touch costs around $300 and that's all you'll every pay to use it (excluding purchases from the app store). The Droid costs $200 with a new 2-year contract, and you'll need a voice plan (starting at $39.99/month) as well as a data plan ($30/month). That puts the total cost of ownership for the Droid at about $1,040 for the first year (includes price of the phone) and $840 for successive years (network charges). Plus tax.
[ad name="Amazon Apple iPod Touch 32GB"]
[ad name="Amazon Motorola Droid X"]
Overall, I've loved both of these devices.  I still use my Touch (mainly because Audible.com DRM-encrypts their audiobooks and they don't support Android yet – that's another rant altogether) but for all intents and purposes, the Droid gets all of my attention.
I love being connected everywhere I go, and the Droid does a fantastic job of integrating all my Google services, Facebook, Twitter… everything.  It's a fantastic device.