Anybody who has had to deal with Citrix servers knows that it's a pain getting anything installed without affecting end-users.  Adobe Flash Player is no different – it must be installed a specific way to make it work properly without getting the dreaded "Application was installed previously with administrative permissions, please install again" error.
Procedure
Step 1: Download the latest .msi version of Flash Player from Adobe's download location.
Step 2: Open your Start Menu, click Control Panel –> Add or Remove Programs.
Step 3: Click 'Add New Programs' on the left side of the window.
Step 4: Click the 'CD or Floppy' button, which will open a prompt to select your installer.  Locate and select the .msi file you downloaded in Step 1 and click 'Next'.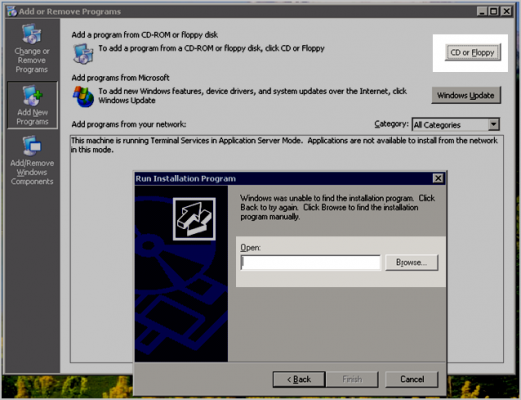 Step 5: You will now see the standard Adobe Flash Player installer, which can be installed just like a normal program.  And you're done!
Author's note: This guide also works with Windows XP for administrators looking to push patches to client workstations.