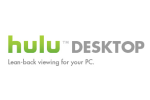 Hulu – the mega-popular TV and movie streaming site backed by NBC, Fox, and others – has just launched a desktop application for both Windows and Mac that allows you to stream all Hulu content on your PC.
Hulu Desktop adds support for Windows Media Center and Apple remotes, which will allow you to treat your PC as an entertainment center.  Like the Hulu website, Hulu Desktop requires Adobe Flash to be installed – however, the application is written natively for Windows and Apple so no other software is required.
One of the biggest benefits Hulu Desktop provides is the ability to turn your TV-connected computer into a replacement for cable TV.  Hulu broadcasts many mainstream TV shows about a day after they air, and by hooking your computer to a TV you'll be able to watch them just like you would if you were paying for cable.
Hulu Desktop is currently in beta and is a part of Hulu's newly-launched Labs site.  Even if you don't have your computer connected to a TV, Hulu Desktop still provides an improved viewing experience without having to rely on your web browser.  For an overview of the software, check out the video below:
Hulu Desktop is a free download for Windows and Mac. [Download: Windows or Mac]
System Requirements:
PC
Intel Pentium Core Duo 1.8GHz (or equivalent)
At least 2.0 GB RAM
2 Mbps Internet connection or greater
Flash 9.0.124
Mac
Intel Pentium Core Duo 2.4GHz (or equivalent)
At least 2.0 GB RAM
Mac OS v10.4 (Tiger) or later
2 Mbps Internet connection or greater
Flash 9.0.124