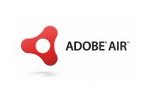 Adobe AIR is a platform that allows software developers to build rich Internet applications that run outside the browser on multiple operating systems.  A few examples of applications that are based on the Adobe AIR platform are Twhirl and TweetDeck.
To install Adobe AIR in Ubuntu:
Navigate to http://get.adobe.com/air/ and click the "Download Now" button.
Open Terminal (under Applications –> Accessories –> Terminal)
Navigate to the directory where you saved the Adobe AIR .bin file (AdobeAIRInstaller.bin).
Type chmod +x AdobeAIRInstaller.bin and press enter.
Type sudo ./AdobeAIRInstaller.bin and press enter.
The typically Adobe AIR installer will now open and follow the on-screen instructions.  Once the Adobe AIR framework has been installed, you can launch any .air file and it will automatically be installed.