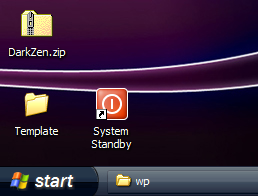 This guide will show you how to create a System Standby shortcut for your Windows computer, which will allow you to manually activate Standby mode by simply double-clicking an icon.
What is standby mode, you say?
"Your machine recovers quickly as your data is stored in RAM. The slower part is waking up the peripherals. Although your machine is in "standby" the power has been cut to items such as your hard drive and monitor. You're running your machine in a very low power mode, but it is still on. This mode can be useful if you're on a notebook and need to conserve your battery while you step away." (via Understanding Differences Between Hibernate and Stand By)
Here's how to do it:
Create a new shortcut (right click, select New -> Shortcut).
For the item location, input C:\WINDOWS\system32\rundll32.exe powrprof.dll,SetSuspendState 0,1,0
Click next and name the shortcut. I chose System Standby.
Click Finish.
(optional) Add an icon to the shortcut.

Right click the Standby shortcut.
In the Shortcut tab, select Change Icon.
A red Power On/Off icon is available in the bottom row.
If you don't see any icons, make sure "Look for icons in this file:" is set to %SystemRoot%\system32\SHELL32.dll
Have any other power management tips?  Share them in the comments.