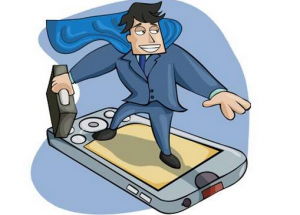 In today's app stores, there are thousands, if not millions of downloading choices. There are games, reward programs, platforms to help keep us up on sports, and other options most have yet to discover.
With all this success, the professional field has begun to take notice. No more are apps only for-fun, now users can file their taxes, sync multiple email accounts, and IM clients with these ever-growing business-friendly models.
Growing Technology
While, in theory, these options have been available to users since the induction of the first app, it's taken updated versions and more user-savvy designs to put them in the spotlight. Advances in technology have also allowed more apps to be invented, such as those that use cloud storage or scan documents (GeniusScan, for instance). With clearer, more sophisticated cameras, smartphones are able to capture small text and reformat them into readable data.
These advancements can also be credited for geolocation, which, through network Internet, allows users to pinpoint colleagues or meet up with professionals in new locations. Apps like Brosix allow users to exchange coordinates through their business platform, which is also transferable to one's computer.
Encryption-enabled platforms and voice recognition – such as Dragon Dictation – have also brought on a new layer of professional smartphone apps.
What it Means
With the growth of these for-business apps, more and more workers can perform tasks while on the go. Mobile offices can become much more efficient, cutting traveling costs or office expenses. In many cases, people are able to work from home, eliminating the need for an extra set of bills or commuting time and fees. Office equipment also becomes less expensive, as more and more electronics become unnecessary. With a smartphone alone – before apps are loaded – users can take out the need for an office phone, camera, calculator, phone book, and more.
These lowered costs allow companies to run more efficiently, and will even further advance the need for business app technology. Thankfully, the field doesn't seem to be slowing down any time soon, providing for more and more software inventions to come into play.
Whether using a smartphone for document scanning, geolocation, or email synchronization, the number of helpful app programs is on a steep rise. To get the most out of your mobile device, head to the app store to see what platforms are available for your needs – personal or professional.