Every household needs decent home theater accessories to go with their TV. This holiday season, get your loved ones the right gifts with these bestselling home theater items. We've made it easy for you to find out this year's must-haves in consumer electronics so you'll know you're giving the best.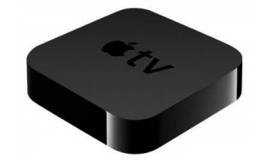 Average Price: $99
Category: Streaming media player
Apple TV lets you stream all of the movies and TV shows available in the iTunes Store to your HDTV on a rental or purchase basis, with purchases stored in the cloud. Netflix, MLB.TV, Hulu Plus, and a handful of other online media services are available, plus music, videos, and photos can be streamed from iPads, iPods and iPhones using AirPlay. AirPlay Mirroring lets you stream any Web video to the Apple TV, if you have a newer Mac running Mountain Lion.
Those who've already invested in iTunes content and Apple hardware will love Apple TV.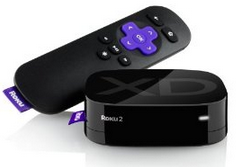 Average Price: $65-$79
Category: Streaming media player
This digital media player supports signals up to 1080p and features built-in wireless networking that allows you to stream media to your TV, so you can enjoy your favorite TV shows, movies and more in stunning high-definition. Roku 2 XD offers hundreds of streaming-video and -audio services, including Netflix, Hulu Plus, Amazon Instant Video, HBO Go, Vudu, Pandora, Mog, Rdio, and MLB.TV. Roku also offers cross-platform search, capable of finding content across major streaming services.
For people who are not Apple fans and want to access Amazon Instant Video this device will suit your needs.

Average Price: $99
Category: Blu-Ray Player
If you want the best movie content and picture quality on your HDTV, you need a Blu-ray player. LG's new Blu-ray player, the BP620, is an impressive device for its price. It features built-in Wi-Fi, plenty of online options, and 3D support.The BP620 offers a wide selection of streaming media services and both free and pay apps, accessible through the player's built-in Wi-Fi or an Ethernet connection. The Premium services are the most useful, and include Netflix, Hulu Plus, Pandora, and several other streamed offerings. The LG apps are much less worthwhile, and include a middling selection of downloadable games and e-books.
The LG BP620 is an excellent budget Blu-ray player. It supports 3D, has built-in Wi-Fi, and its price makes it very friendly to budget-minded home theater owners. There are certainly more expensive options out there such as Sony Playstation 3 and Oppo BDP-93.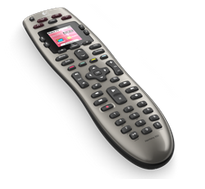 Average Price: $59-79
Category: Universal Remote
The Harmony 650 is a powerful universal remote with easy set up, color LCD screen, surrounded by five contextual buttons; Web programmable via Windows or Mac PCs; excellent button layout and overall design; supports custom sequences/macros. It does only control 5 devices, so if you have more than that you may want to consider a different remote. Eliminate multiple remotes and get this very reasonable universal remote.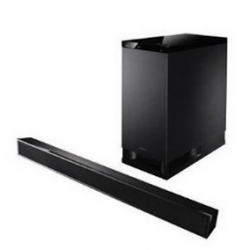 Average Price: $188-200
Category: Home Theater / Soundbar
The sound bar has become an extremely popular add-on purchase when shopping for a TV, especially if you don't want a space-hogging multi-channel surround system. You shouldn't have to deal with sound so bad it sours your experience with your gorgeous new display.
This 3D sound bar delivers immersive audio without running wires across the room or setting up extra speakers, so you can complete your 3D home entertainment experience with simple, yet powerful surround sound. The  32″ 3D sound bar home theater system features 3D compatibility and can also be turned into your entertainment hub by utilizing its 3 HDMI video outputs. The downfall is the wired subwoofer limits how far you can place it from the sound bar.
With easy setup and great sound, this is an excellent gift for under $200.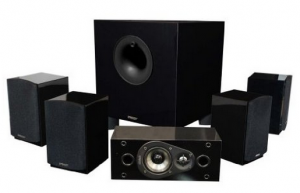 Average Price: $299
Category: Home Theater / Surround Sound
If you are looking for home theater speakers, the Energy Take Classic 5.1 will leave you pleased with your listening experience.  The collection of high-tech components: satellites, subwoofer, and a center channel. Displayed in high-gloss black cabinets, this system looks as good as it sounds. The 200-watt, 8″ subwoofer provides pounding bass while four satellites and a center channel bring an expansive sound stage to the comfort of your home.
Altogether, the system is one of the best home theater values available.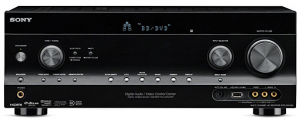 Average Price: $449-498
Category: Home Theater / AV Receiver
Sony may not be the first brand you think of in connection with audio/video receivers, but that may be about to change with the STR-DN1030. This receiver is a wireless triple threat with Apple AirPlay, Bluetooth, and Wi-Fi connectivity. And all of that is dongle-free.
Wired connectivity includes five HDMI inputs and one output, all on the back panel. There's also an HD-capable component video output along with two component ins. Composite video switching is limited to two ins and two outs, and there are no S-video jacks. This should be enough to support an average system unless you're loaded with legacy components. There is a wired Ethernet connection in addition to the built-in Wi-Fi antenna. And if you prefer to connect your iPhone or iPod to the front-panel USB jack.
The STR-DN1030 shows that the company can still make a great AV receiver. It may be slightly behind the Onkyo TX-NR616 in overall value, but it's a better choice if you want more features built-in.