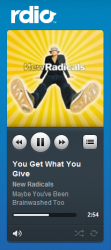 If you're an avid Rdio user or are considering jumping ship from another music streaming service, you just might be pleased to know that we have a $25 Rdio gift card with your name on it (if you're the lucky winner, that is).
The $25 gift card is yours to use however you see fit on Rdio's website. They have three different tiers of services to choose from: web-only unlimited streaming for $4.99/month, web and mobile unlimited streaming for $9.99/month, and a family package where you get two web/mobile unlimited streaming accounts for a discounted $17.99/month.
How to Enter
Nobody likes a complicated giveaway, so to enter the contest simply post a comment below. Just make sure to use a valid account, whether it be email, Twitter, Facebook – we'll need to contact you if you're selected.
Entry will close at 11:59PM Sunday, March 11th. Good luck!
Update: The giveaway is now over! The winner has been contacted. Thanks for all of those who participated.