Windows Phone 7 may not have caught on like Microsoft was hoping it would, but it does present some interesting ideas. One of those is its minimalist, tile-based homescreen. Thanks to the wonders of Android, you can now get that same experience on your Android phone with Launcher 7.
Windows Phone 7 (and by proxy Launcher 7) eschews the familiar rows and columns of icons used by stock Android and iOS in favor of two columns of tiles. You get less information on the screen at one time, but it certainly looks nice while still remaining usable.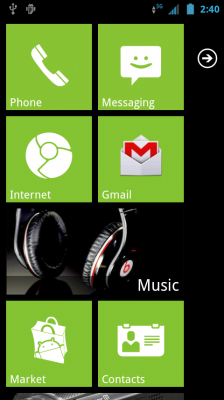 Like most Android homescreen replacements, Launcher 7 is dead simple to start using. After installing, just hit the Home button on your phone. You'll get a list of your installed homescreen replacements, and if you wish you can set a default at this time. If you end up trying out a bunch of homescreen replacements simultaneously, consider installing Home Switcher. It simplifies the process of launching your various homescreen replacements and changing which one to use by default.
Launcher 7 keeps things simple with only two "main" screens. The tiles screen is where you'll find your most-used applications. You can also simulate Windows Phone 7's active tiles by adding standard Android widgets through the Add Special Tile menu option (due to space limitations only 1×1 and 2×1 widgets can be added).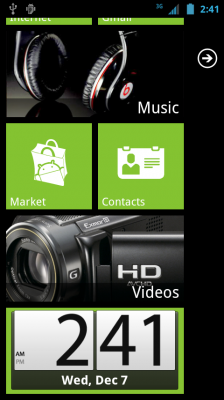 Swiping to the right brings you to a list of all your installed applications. If your list is as extensive as mine you can jump to any other letter by tapping a visible letter on the screen. Turning one of these applications into a tile on your main screen is as simple as dragging it over.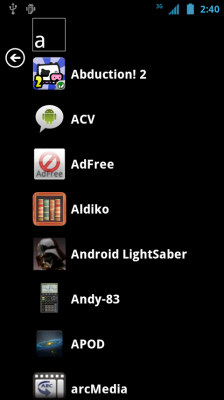 If the default color scheme isn't to your liking it can be modified from the Launcher 7 Settings menu option, along with a host of other customizations. Individual tiles can be modified, rearranged, and deleted by long pressing on them.
Launcher 7 is available in the Android market in both a free ad-supported version and an ad-free version for $2.