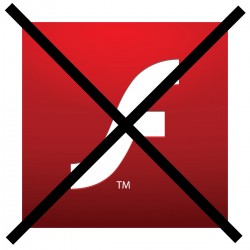 That's it, folks. Adobe Flash Player for mobile devices has officially packed up its bags and walked out the door never to be seen again. Of course, Flash for desktop operating systems will live on (and probably not all that well), but Adobe has decided that Flash on mobile devices just isn't in the cards. Many critics may think that the sole reason behind this was that Apple didn't want Flash running on iOS. This was a reason, but not the reason.
Mike Chambers, Principal Product Manager for developer relations for the Flash Platform at Adobe, says that there were multiple reasons why Flash for mobile wasn't going to work out and why they decided to quit while they were behind:
 "One of the leading mobile platforms (Apple's iOS) was not going to allow the Flash Player in the browser," which meant that Flash "was not on track to reach anywhere near the ubiquity of the Flash Player on desktops."
HTML5 is taking over. "On mobile devices HTML5 provides a similar level of ubiquity that the Flash Player provides on the desktop. It is the best technology for creating and deploying rich content to the browser across mobile platforms."
Flash was simply less relevant on mobile devices since users used apps more often than the browser. "Users do not look to the web on mobile devices for finding and consuming rich content."
Developing Flash for mobile use is much more challenging than for desktop use. "Developing the Flash Player for mobile browsers has proven to require much more resources than we anticipated."
"Halting development on the Flash Player for mobile devices frees up resources for HTML5 development (tooling, frameworks, browsers)."
Long live HTML5! It's definitely a sad day for Flash mobile, but I'm excited to see what Adobe has in store as far as HTML5 developments.