It's that time again. Yep, I am of course talking about contract renewal day for the family cellphone plan. For me and my sister, the phone choices are pretty obvious (an Android for me and an iPhone for her). But once mom starts talking smartphone, the whole cellular arena starts to get a little grey.
Now granted, my mother is already at an average level of technological intelligence. She does approximately 75% of her job with a company computer, uses a digital camera and can organize and back-up her digital picture library, and has all of her contacts precisely managed via Microsoft Outlook. So with that in mind, which smartphone OS is truly the best for her? Android? Apple? Or how about that newcomer by Microsoft, the Windows Phone 7? Well, I got to the bottom of it by doing an exclusive interview.
The Interview
Me: For starters, what phone did you have prior?
Mom: I had the HTC Ozone, which was similar to a Blackberry. It was a smartphone with a physical keyboard and [non-touch] screen. I didn't like that the screen was too small, and it was hard to find the settings for the phone. It had plenty of settings options, but it had many different menu screens to get to them. The phone was complex and not very intuitive.
Me: Which new phone did you pick then?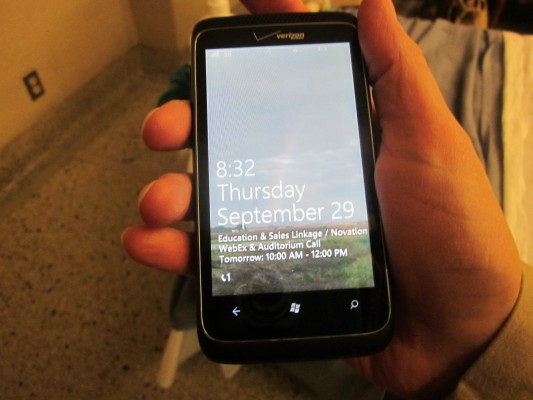 Mom: I picked the HTC Trophy in the end [Which is a 3G Windows Phone OS 7 device by Verizon]. It has easy syncing with my Microsoft Outlook [through Microsoft Exchange]. Also, I really wanted a touchscreen.
Me: Is the touchscreen easy to use then?
Mom: It takes a bit to get used to…some training. Some days, I will touch where I do not want to, and an unwanted program will open. Ultimately I wanted to get to a new technology, and Windows Phone was the easiest.
Me: Alright, let's talk contacts next.
Mom: Everything was done with Microsoft Outlook, so all my contacts synced well. I didn't need to manually load any of them. I like the search function in the contacts app, and [when immediately opened] it shows me the last six to eight people I called. I can then take a person and pin them to the front home screen. Like speed dial. Besides that, [the contact interface] is easy to use. Once I dial a number or get a call I can add it to my contacts, which makes it very intuitive.
[Authors Note: Due to the liability of personal information being leaked, the home screen and their customizable boxes were not photographed. See the official website for more pretty pictures of the Windows Phone OS in action.]
Me: Any other things you like about the HTC Trophy?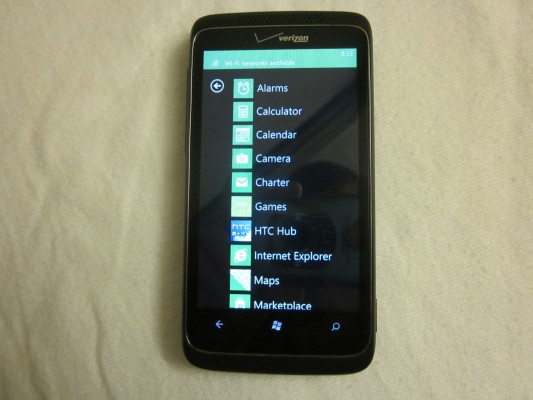 Mom: I like the physical little search button on the phone; it takes me right to the internet. The main menu screen is easy to use and everything I need is right at my fingertips. I am just learning how to add apps, but I do not know how to get rid of the programs I don't use. For a phone with new technology, it is so easy to figure out. I added the family's home email account all by myself. I thought, "Oh, that's pretty easy."
The messaging application is simple, and gives me a list of who I've talked to most recently. Also I like the text messaging conversation boxes. It shows what I said, then on the other side of the screen it shows what they said.
I also like that I can move boxes around on the home screen…[Gets engulfed in her new phone for a few seconds]…I can get apps now; I couldn't do that before.
Me: Okay, so what don't you like about the phone?
Mom: The phone feels clunky when it is dialing. I also don't like how I have to use the volume control to set the phone to Vibrate Mode. I just want one button to set it; boom and done. I am getting used to using the top button to turn the touchscreen on and off as well.
I also do not like the where the physical camera button is. It's in the wrong place. See how the adapter is on this side and the camera is placed in the exact same spot on the other side? When you plug the adapter in you can accidentally hit the camera button. The adapter should be on the bottom. I've taken more pictures of nothing than anything else! The camera itself is fine, though.
I had to setup a Windows Live email account with this phone, which is crazy as I will never use it.
I haven't tried Bluetooth yet; I wouldn't even know how to set it up. I also don't like how the Airplane mode is hard to…Oh wait, here it is. And Bluetooth too. The settings menu is so easy to use.
Me: So it appears that the Windows Phone OS has a few pros and cons associated with it. If you could ask Microsoft to change one thing, what would it be?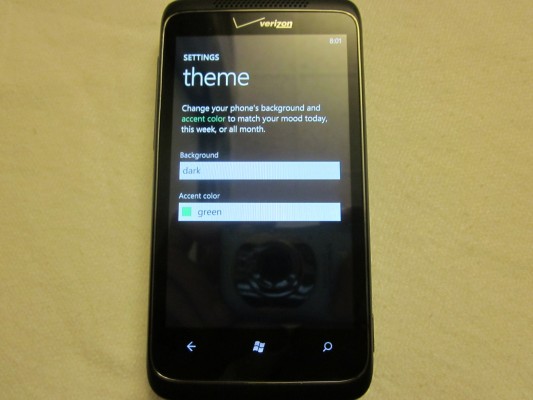 Mom: I want more choices for changing the reading panes [On the home screen and main menu screens]. Currently, I can only do White font on a Black background or Black font on a White background with the colored panes; I'd like more color options. When it asks to "match my mood," its either "dark" or "light." I wish it had more.
Me: Bottom line, would you recommend this phone?
Mom: Yes I would. I know I can't convert anyone else to this phone and between Apple and something else I can't really compare it, but from what I went from to this has been positive and easy. Overall, I've been very pleased….except for the battery life, of course.
[End of the Interview]
Author's Closing Comments
Sometimes, it is important to take a piece of technology and see how a different demographic would handle it. Therefore I wish to thank my mother for allowing me to capture her opinions and reconstruct them into a honest review of a Windows Phone device. From what I can tell, the Windows Phone 7 OS operating on the HTC Trophy is crisp, easy to navigate, and fairly intuitive for the average user. More importantly, these conclusions equate to my mother being satisfied with her smartphone choice. And really, that is all I truly care about.