Back in May, South Korea and the United Kingdom were the first territories to get their hands on Samsung's Galaxy S II smartphone, which was announced in February. More countries were slowly being added to the list, with Canada being the first North American country to receive the phone in late July. Finally, we Americans can now join in on the hoopla.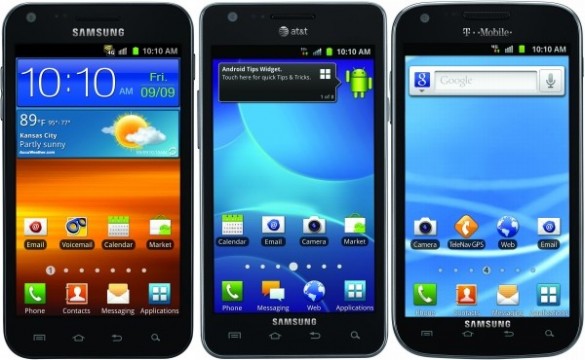 Samsung will be releasing the Galaxy S II for AT&T, T-Mobile and Sprint, but mysteriously not for Verizon. All three models will sport a Super AMOLED Plus display with Sprint's model (called the Epic 4G Touch) getting the larger screen size of the three at 4.52 inches. AT&T and T-Mobile will carry the smaller, but still huge 4.3-inch variant. Sprint's version will also be packing a slightly larger, 1800 mAh battery compared to the thinner, 1650 mAh battery that AT&T's and T-Mobile's model will carry. And you bet that AT&T's taking advantage of that fact by giving it the title of "thinnest 4G smartphone."
Other than that, the three Galaxy S II models are no different from each other. They all sport a 1.2 GHz Exynos dual-core processor with 1 GB of RAM, as well as 16 GB of internal storage and an 8 MP camera on the back (2 MP on front).
Sprint is the only one so far that has announced pricing and availability — September 16th for $199. AT&T and T-Mobile says they'll release their Galaxy S IIs "soon."
If your curious mind is aching for a better look at these three phones, look no further than right here on the Internet, which has gladly provided us with plenty of hands-on photos and videos.
Also, if you've been in the market for a brand-new Android smartphone or if you're wanting to get a great deal on an older phone, now is the time to get serious.