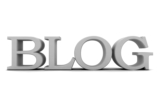 That seems kind of obvious, doesn't it? Blogging from insider your browser, I mean. That's how most people do it — go to whatever blogging site they use, log in, and start typing.
But that's not necessarily the best way. And it's not the most convenient, either, especially if you have more than one blog. So, what is the best way? That depends on your needs. But a good choice is a browser extension called ScribeFire.
Let's take a look at ScribeFire and what it can do.
A little about ScribeFire
ScribeFire is an extension for Google Chrome (it also works with Chromium, Chrome's Open Source cousin), Safari, Firefox, and Opera. It adds a WYSIWYG blog editor to your browser that supports posting to most blogging platforms, including WordPress, Blogger, Movable Type, Posterous, and Tumblr.
Instead of logging into each blog, you can just pop open a ScribeFire window, type a post, and then publish that post with a couple of clicks. You can also save drafts on your computer to post later.
Now that all the background information is out of the way, let's walk through how to work with ScribeFire.
Getting set up
The first thing that you'll want to do is install ScribeFire. Just follow one of these links:
Once ScribeFire is installed, click the toolbar icon to open it. Then, click Add a New Blog. In the window that opens, enter the URL to your blog, select the type of blog it is from the Blog Type dropdown list, and enter your user name and password. After that, click Finish.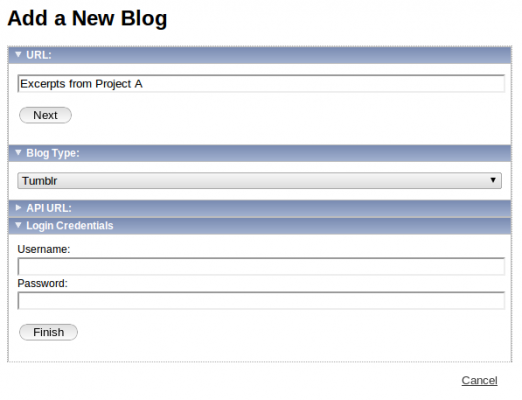 Now you're ready to go.
Writing posts
You've set up your blog or blogs. You probably want to start posting. To do that, select the blog for which you want to write the post from the BLOG list in the top-left corner. If you've only got one blog, then it's already selected. Then, click Start a New Post. The WYSIWYG editor opens. Just start typing.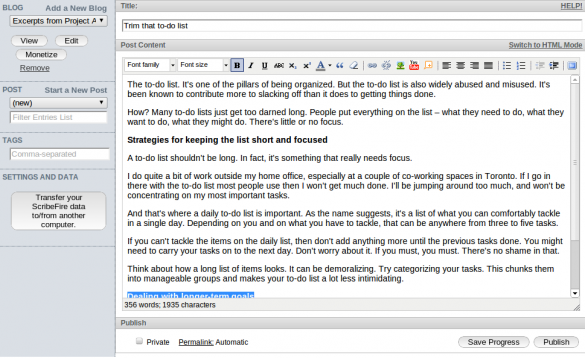 You can add various types of formatting to your post, like bold and italic text, indents, or highlighting. You can also add links, images, and YouTube videos as well as lists. You can't add tables or actual headings in WYSIWYG mode, though.
But if you know some basic HTML, you can add a bit more formatting. Just click Switch to HTML Mode. In the HTML editor, add HTML tags (including the ones for headings and tables).
You can also add tags to your post by typing them in the TAGS field on the left of the ScribeFire window. You don't need to do that, but it can help the folks who read your blog find posts on a specific topic faster.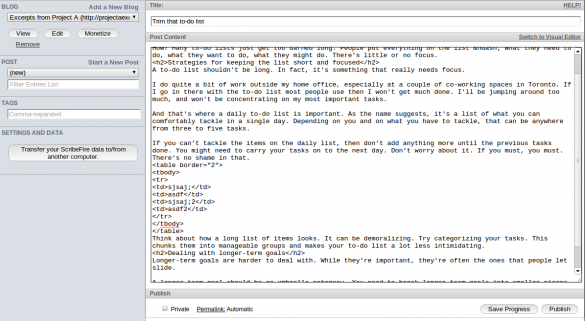 Once you're done, click Publish to send the post to your blog. Or click Save Progress if you're offline or still have some work to do later. ScribeFire saves your work to your hard drive and opens the unfinished/unpublished post the next time you start it up.
Moving your data between computers
If you're using ScribeFire on more than one computer — say, your desktop and a laptop — and you have several blogs, it's a lot of work to re-enter the information for each blog. Instead, you can back up your data. Click Transfer your ScribeFire data to/from another computer.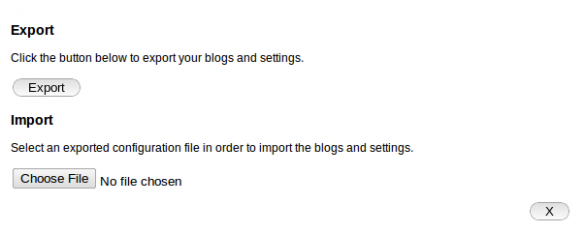 Then, do one of the following:
Click Export. A new browser tab containing some information opens. Copy and past that information into a text editor, then save it to your hard drive or something like your Dropbox account.
Click Choose File. Find the file that you saved, and then click Open. You'll be prompted to close and then reopen ScribeFire.
ScribeFire is an easy-to-use and flexible tool for blogging. While it's not a fully-featured as tools like BlogJet, ecto, or MarsEdit, ScribeFire is more than capable of handling most of your blogging needs. And you can't beat the price.
Photo credit: svilen001