Thanks to an official training document that has been leaked, the rumored tiered data plans for Verizon customers are definitely coming. Android Central ended up with the leak, which contains a slew of details about the new data plans that will most likely answer some of your hankering questions.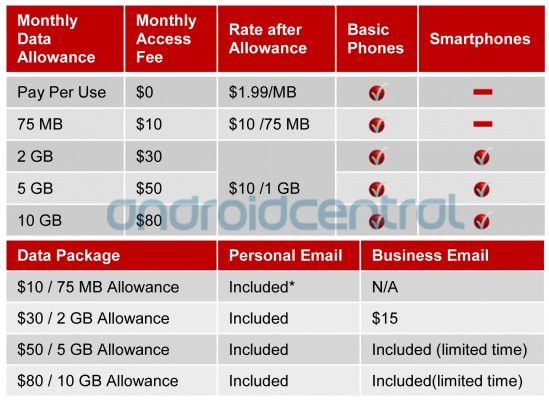 The most important aspect of the change are obviously the different data/price options. Plans will start at $30 a month for 2GB, with $50 a month for 5GB being the next cheapest plan. If you happen to be a data hog (and wealthy), they will have a $80-a-month plan that will get you 10GB. If you go over your allotted data, it's $10 per gigabyte. As for the mobile hotspot, it will cost $20 a month for 2GB.
Here comes the good news for current Verizon customers who have an unlimited plan (like myself). So far, you'll be able to keep your unlimited plan even when you upgrade your new phone and renew your contract in the future (This could possibly change sometime, though.) If you add a new line to your account, you won't be able to get the unlimited data plan for that line. This means that if you're even slightly considering adding a line or upgrading to a smartphone, now would be the time to do it, since you'll be able to snag the unlimited data plan until July 7.