Amidst of all the recent announcements from Google comes a lesser-known feature that's available now in Google Labs. It's a small service called Swiffy, and it will convert SWF (the file format for Flash) files into HTML5 versions for use in most modern browsers like Chrome and Safari.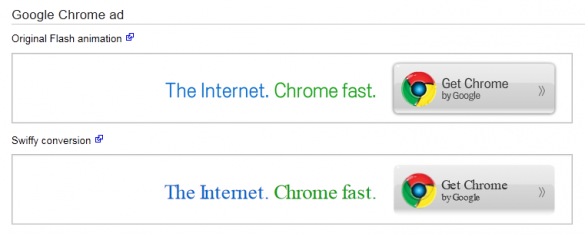 Google says the process works by first converting the SWF file into a JSON file, then rendering it using HTML, SVG (Scalable Vector Graphics), and CSS (Cascading Style Sheets). The result is a complete HTML5 file with a size that's just slightly larger than the original SWF file that was converted.
Of course, we're all probably thinking that Swiffy would make a great tool for developers to use to develop and port content for iOS and other devices without Flash capabilities. Obviously, Swiffy is still in its early stages, so it can't convert every SWF file under the sun just yet and Google doesn't know if it's going to turn Swiffy into an open-source project. Either way, Swiffy is waiting and ready for you to begin your Flash-converting monstrosity right now.