There's a good chance that (like most people) when you wonder "Hey, I wonder if there's an app for that on my phone…", you immediately go to the app market and search for it.
Now if you are like me, instead of searching for an app, you will ask one of your friends who knows all about apps.  Except with this method, you have to be ready for a full lecture on whatever app you may be looking for and then some.
To save you from a full on lecture and some time searching, here are a few of my favorite Android apps:
Did you get the memo?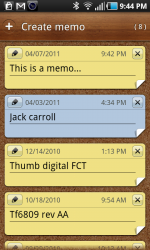 When I need to take a note on anything (for example, what spark plug type to buy or a part number for something at work) Memo is my go-to app.  I have used this app multiple times and is super easy to use.
Download Memo
Press "Create memo" and start typing.
Simple as that!
As you can see, you can also color code the different notes you take. To change the color of the memo, press the return button on your menu bar and have at it.
To edit an existing memo, press the pencil shown on the left corner. Need to email yourself the memo or to someone else? Hit the Menu button on your phone. The memo will then be mailed  in the form of a .vnt file (Note: This file extension is standard for mobile memos and can be opened with any editor).
Turn up the tunes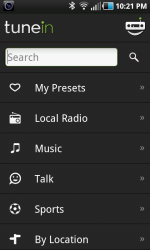 My next favorite application is TuneIn Radio.  You can use this application to listen to your favorite radio station (as long as they are streaming).  It works great for me because being from a small town is not easy for me to tune into a local station to get the news or listen to music.
To search for a radio station, type the name of the station in the "Search" window. Once you find a station, you can add it in your presets by pressing the "Add to Presets" button that appears on your screen. When you press "My Presets," you will see a list of all the stations you have added.
You also have the option to search for station based on the other options available:
Local Radio
Music
Talk
Sports
By location
By Language
Podcasts
I found the streaming quality to be acceptable on this application. Once you place the app in the background, you have a small menu that allows you to pause or exit the application on the top menu.
Comments or questions on these apps? Let us know in the comments section below!