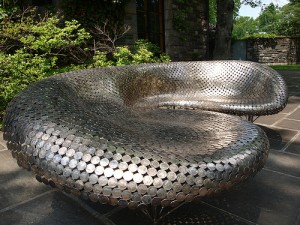 In the last episode of "How to make money online" I covered possibilities offered from being a Cha Cha guide. Well, since then not a lot has changed. I still enjoy money, still have none, and I am still very fond of sitting on my couch.
Since then, I've done a little research, a little experimenting, and found that McDonald's $1 McChicken is far tastier than Burger King's $1 equivalent. Oh, also I've discovered another way to make some sweet, shiny couch cash.
eLance.com
Are you good at something? Are you good at things pertaining to programming, design, writing, sales, finance, engineering, and/or legal work? Are you also good at marketing yourself? If so, freelance work could be a good way to make a few extra dollars on the side.
One of the hardest parts about freelancing is finding work. But with the help of the Internet, you can find sites like Elance.com, where freelancers meet people who need various work projects done for them.  Now that you've found resources, it's time to see how to get involved.
Orientation
The orientation process is pretty simple. Basically, all you have to do is supply your basic info and pass an open book test. There are links supplied that lead to documents with the answers within. The test is 10 questions long, and in order to pass you need to get 8 correct. You can retake the test 5 times. Unlike the Cha Cha test, you know your results immediately and you can begin right after you've passed it.
Work Required
The work required can be literally anything. The basic categories listed on Elance.com are: Web & Programming, Design & Multimedia, Writing & Translation, Sales & Marketing, Admin Support, Finance & Management, Engineering & Manufacturing, and Legal. Within the categories is anything clients are looking for.
For example, in the Design & Multimedia category, where I spend most of my time (I moonlight as a graphic designer), there are work orders for logos, videos, 3D renderings, voice actors, picture touch-ups, and much more. Currently under that category there are well over 1,000 jobs listed, so there are no shortages of work.
Probably the biggest downside of Elance.com is that there is no guarantee you will get work. The way it works is that the client posts the job details of what they need done. The post is up for a designated amount of time, and in that time period anyone can place a bid. When you submit a bid, you include a brief message, a price, and a timeframe. Everyone who places a bid is listed. The average, low, and high bid prices are also listed (they don't identify who bid what) so it's possible to ballpark where everyone is at.
As a free member, you are given 10 "Connects" a month. Submitting a bid will cost you at least one Connect. So, as a free member you can at a maximum submit 10 bids a month.  In order to get a bid, you will have to demonstrate to your clients that you have the skills required to perform the tasks they need. The best way to do this is to put together a good profile with some quality portfolio items. This is crucial, as there is competition to beat out from all over the world.
The amount of competition on this site was not something I was prepared for. I assumed that everyone on here was probably just like me, college grads, people looking for an extra job here and there, things like that. I was WRONG.
While I consider myself a pretty knowledgeable, skillful designer, there are designers working with 20+ years experience and groups that have made half a million dollars or more. After looking through some profiles, I realized I was going to have to take things seriously and really put some effort into my public profile.
The Pay
If you are successful at winning a few bids the pay can be quite handsome. The minimum bid allowed for any project is $50 while the highest bid I've seen so far is $275,000. But, the tough part is winning the bid.
Some Tips
I've heard a few tips from around the interwebs having to do with freelance sites. One of the biggest pieces of advice I've heard is to opt for the premium, paid, account. On Elance, the premium accounts give you more Connects and a few more features. The more Connects means you can bid on more jobs, and spend an extra Connect to get your bid at the top of the list.
Another idea is to work for cheap. On sites like this, past work and good references are key to landing the big jobs. Getting a few jobs in for cheap can give you some good references for future clients to look at when you're going after the bigger paying jobs.
Conclusion
Elance.com can be a very rewarding source of income. Some individuals and groups have made a pretty lucrative career out of it. The important thing to remember is that there is no guarantee you will get work, and there's no guarantee of how much you will make in a given amount of time. Pretty much it all comes down to the skills you can offer your client and how well you market yourself to them.
Keep in mind, the Design & Multimedia is only one category. I am most familiar with that realm, so that is what I've been pursuing. I have taken a look at the Writing & Translation category and there are some more, basic jobs such as writing articles, transcribing text from sound files, etc.
Regardless of what you're going after, you will be competing for the job. To date, I have not won a bid. There are a few that are looking pretty optimistic, but nothing guaranteed yet. There is a lot of money and plenty of potential to find clients looking for future work here, but it takes some serious effort. I am looking forward to continuing to experiment on Elance.com and hope to come out a few bucks ahead in the end.
Photos from Edyta.Materka's flickr and by Britt Selvitelle's flickr