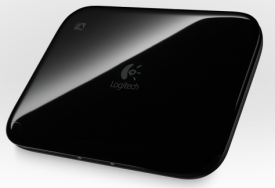 Editor's note: I am joined at the end of this article by software engineer Chris Finke, who was kind enough to share his experiences integrating Google TV with his Tivo.  Both Chris and I won our Logitech Revues through a developer contest held by Google.
The Logitech Revue with Google TV is Google's first foray into the set-top box hardware format. The idea behind Google TV is that you can take your all of your entertainment sources, no matter how expansive, and have access to everything through a single device. After connecting your digital cable, DVR, and streaming accounts like Netflix, you can search for content through Google TV and it will find it on any of your systems.
Unboxing the Logitech Revue with Google TV
The Revue is very similar to the popular Roku digital video player in both function and size. It is surprisingly light and whisper quiet, although an internal fan did briefly kick in when I first started the device. Along with the device comes a very impressive wireless keyboard (that doubles as a remote for your whole system), as well as a 6-foot HDMI cable, power cables, and an IR blaster.
httpvh://www.youtube.com/watch?v=rxJB5m8aYHY
The Keyboard as a Remote
The Revue keyboard is light and made of that soft-touch rubber that has become so common with modern electronics. Since this is the only input method for the system, the keyboard also features a laptop-style touchpad and mouse buttons. Navigating with the keyboard can be done through the touch pad, arrow keys, and the Channel/Page buttons.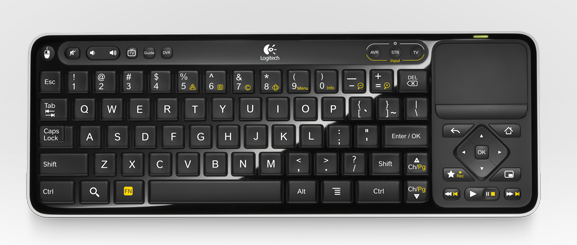 Across the top of the keyboard are volume controls and buttons to control your TV and DVR. The most important keys on the keyboard are the magnifying glass key on the bottom left for accessing Search (available anywhere in Google TV), and the Home button on the right side of the keyboard beneath the touchpad.
Here's a must-have tip for the keyboard: To enable tap-to-click (which you're probably familiar with from laptop touchpads), press and hold Left CTRL + FN + Ch/Pg Up.
Setting up the Logitech Revue and Google TV
Installing the Logitech Revue hardware and configuring Google TV isn't difficult, but plan to spend at least 30 minutes before you can actually use the device. The installation took a little longer in my case because of my entertainment system setup (and my tireless affinity for zip ties).
After you get the Logitech Revue up and running, you'll follow a simple 12-step process to configure Google TV for your system. This includes setting up your wireless (or wired) network, installing a mandatory system update, configuring your display, and adding any peripherals you own.
httpvh://www.youtube.com/watch?v=HkkwM5gV9hU
Integrating with Other Devices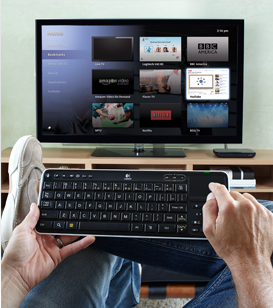 The big selling point of Google TV is that you can search all of your content through one device. This is, unfortunately, where I happen to be one of the worst usage scenarios ever: I'm one of those hip kids that doesn't have cable, satellite, or a DVR. My entertainment sources include over-the-air digital antenna, Netflix Instant Watch, and Hulu Plus, so I can't give you a very good opinion of how the Revue integrates with your entertainment system.
Google TV comes with Netflix Instant Watch software installed by default, and Hulu Plus is "on the way" which I am eager to see. I've used Hulu Plus through the Roku player and have really enjoyed it.
The Logitech Revue has several IR transmitters (just like your TV's remote control uses) across the front of the device, which is how it can control your entertainment system. This lets you issue commands through the Revue, like turning off the TV, changing channels, or adjusting the volume. If your entertainment setup doesn't give the Revue good contact with your peripherals, an IR blaster is included to give it better range.
Streaming Video Online
Until the Android Market reaches Google TV, streaming video is done through the Chrome browser app just like you would on a computer (except for the Netflix app). The system does a great job of handling Flash video, and I was able to watch shows like Conan on TBS.com without any problems. It isn't the most refined experience though – you need to click the small "Play" button on videos, then locate the "Play Fullscreen" button to enjoy it as you would on TV.
Amazon Video On Demand can also be streamed right through the Chrome browser. I checked out Predators via Video On Demand streaming and the quality was great. Even though the streaming is done through the browser, the media controls on the keyboard work just like you're watching a DVD.
When the Revue first came out, there was a lot of commotion about how major networks were blocking the device from streaming video online. This is true for some websites, but it has a very simple workaround: in Chrome, press Menu, go to Settings, and change the user agent to Generic. Hulu has unfortunately fixed this loophole, but many other sites have not.
Google TV + Tivo
Written by Chris Finke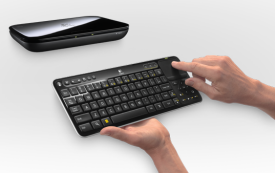 I recently had several guests over to my house, and without any prompting on my part, I saw them successfully using YouTube search, Pandora streaming, and the Netflix app, which means the Logitech Revue's learning curve is definitely low.
The main question I heard was, "Does it record TV shows?"  Upon hearing that it doesn't, people disappointingly said, "So it's just like… a computer… connected to your TV?" I understand that Google TV's stated purpose is make video and the internet easily accessible, but the fact that there's literally nothing I can do with Google TV that I can't do in a web browser makes it less desirable and definitely not worth the $299 price.
Except for browsing the web, my Revue doesn't do anything my Tivo doesn't (plus my Tivo organizes my recorded TV shows); however, I would choose to use the Revue over the Tivo every single time.  On my Tivo, accessing things like Amazon Video On Demand or YouTube search can take as much as 10 seconds, with several second stutters during every menu change. On the Revue, the interaction is smooth, and the interface is polished. It's so easy to use that my 20-month-old son knows how to use it to watch YouTube videos of his cousins – "arrow, arrow, spacebar", and he's got an hour of entertainment queued up.
[ad name="Logitech Revue with Google TV"]
Given this interface improvement, I wish that Google TV was able to natively browse my Tivo's recordings through an interface like the Netflix app. The extent of Google TV's integration with Tivo is two buttons on the keyboard: "DVR" which brings up my Tivo's home screen, and "Guide" which switches to the live TV feed from my Tivo and activates the Tivo's guide (which is terribly unusable).
If user experience is what Tivo could take from the Revue, a new remote is what the Revue could take from Tivo – a keyboard is a terrible form factor for controlling a TV from a couch or other non-desk surface. Logitech would be wise to mimic Tivo's Slide Remote or find some other way to get back to a typical remote control form factor for all of the standard TV interactions but still include a QWERTY keyboard for web browsing and video search.