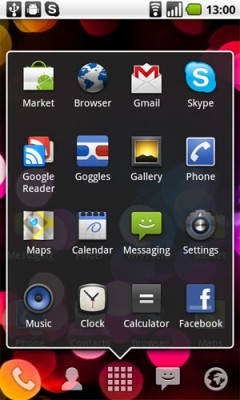 It's been over a month since we last heard from Federico Carnales, developer of the awesome Android homescreen replacement application LauncherPro. He's been busy completely rewriting LauncherPro from scratch, but recently found time to push out an update to the current version that adds some very cool screen transitions.
For the uninitiated, LauncherPro is one of many homescreen replacements available for Android devices. These replacements run over the top of your device's default homescreen and often add new features to improve the Android experience. For example, LauncherPro, among other things, lets you set the number of homescreens you want, adds a new app drawer, and allows you to hide non-removable applications (V-Cast applications, anyone?) from your app drawer if you're not willing to root your device in order to get rid of them completely.
To check out the new transitions, update LauncherPro to the most recent version, hit the Menu button on your phone and click on Preferences. Click on the Homescreen Settings submenu and you'll find a new option for Transition Effect. Here you can choose an awesome new transition, and you don't even have to restart LauncherPro to try it out!
Excepting the Cube transition, which is still a little jerky, the new transitions are just as fast as the stock scrolling transition. Of course, that could also just be due to my ancient Motorola Droid.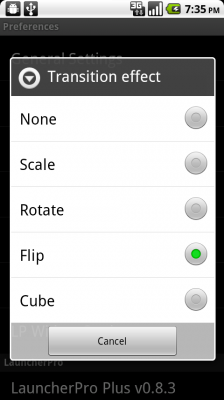 In his latest blog post Fede also promises another update soon that will add to the growing list of goodies available to those who have paid for LauncherPro Plus. If you haven't given LauncherPro a go yet, there's no better time than the present! Scan the QR Code below to be taken directly to LauncherPro's Android Market page.

You can also check out a quick demonstration of all the new transitions in the video below.