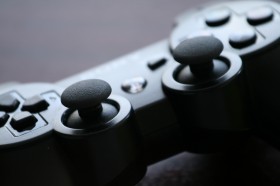 The holidays are right around the corner, and if you're anything like me you haven't even thought about starting to shop for gifts. In the past this situation might have ended with you in tears at the mall, desperately fighting against throngs of soccer moms and biting children, hoping to grab the last of whatever this year's best seller ends up being in the final days leading to Christmas.
This year, however, with our series of gift guides and the convenience of online shopping, you can buy gifts for everyone on your list in between matches of Call of Duty.
Gamers can be a tricky bunch to buy for. Taste in games varies wildly, and if you're unlucky you might accidentally buy Kinect Sports for someone who was hoping to play Fallout on Christmas morning. Talk about embarrassing.
Thankfully, some games have near universal appeal, that any gamer would be happy to find in his or her stocking. I'm here to tell you about these games, one for each of the major systems available today.
Do you have someone on your list who likes Legos? Of course you do, everyone likes Legos. It should then follow naturally that everyone likes Minecraft.
Minecraft has been around for a while now, but this past summer it saw an explosion in popularity, and it seemed like every PC gaming website on the planet was giving their take on the indie sensation. All this attention didn't come without a reason, and Mincraft – though it's still in the alpha stage of development – manages to live up to the lofty expectations set by its success.
In its current form Minecraft is a pure sandbox style game. There are no goals to accomplish except those set by yourself, and you can do anything you want, whenever and wherever you want. All the geometry in the game (including your character) is based around the simple Lego-style block, which can be combined with other blocks of different types to form new objects. Punch a tree for long enough and a block of wood will fall out. Combine two blocks of wood and you get a stick. Combine that stick with blocks of coal that can be mined, and you end up with a torch that can light your path.
Blocks of material can also be moved around to create structures in the game world. This comes in handy, as you can build yourself a house to protect you from the monsters that come out during the game's nighttime.
On top of how fun and engaging Minecraft can be, until it's final release the game can be bought at a discount. That means you can afford to buy yourself a copy as well!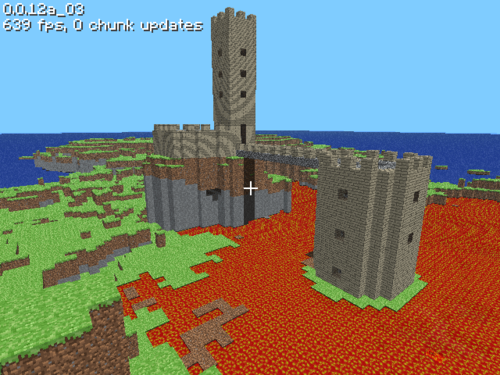 [ad name="Holiday Gift Guide – Fable III"]
Peter Molyneux, the mind behind the Fable series, is a bit of a controversial figure in the world of gaming. He's the man responsible for some of the greatest games in the history of the PC, including Dungeon Keeper, Theme Park, Magic Carpet, and Black & White. More recently, however, he has a habit of making claims that his games cannot possibly deliver on (see his Wikipedia entry for more information).
Thankfully, Fable III manages to live up to most of the hype and offer an enjoyable gaming experience. If you played Fable II, you should feel right at home as you'll be slinging the same spells at the same Balverines, working to level up your melee, ranged, and magical arsenals.
On top of the familiar gameplay, your character now also has to deal with the day to day management of a kingdom, with your decisions influencing the direction the game takes. Heavily tax your citizens and let criminals wander freely and the world responds by becoming visibly poorer. Take the opposite strategy and watch as your kingdom flourishes.
Fable III isn't without its flaws, but is absolutely bursting with charm that makes it impossible to not enjoy, making it an excellent holiday gift for that gamer on your list.
[ad name="Holiday Gift Guide – Gran Turismo 5″]
Ok, I lied a little bit earlier. Gran Turismo 5 might not have universal appeal, but to the right person it might be just what they're hoping for, and it's definitely going to be a big seller this holiday season. Does the person you're shopping for make their own motor noises while cruising around town in their purple Dodge Stratus? Get them Gran Turismo 5 and they'll love you for life.
Any car/driving/racing enthusiast will find plenty to do in Gran Turismo 5. The fifth iteration (obviously) of the critically acclaimed driving simulation series Gran Turismo, GT5 is a game that's been in the making for six long years. It boasts a roster of over 1000 cars (though some are more detailed than others), and you'll be doing everything from go-kart racing at 75 MPH, to learning about NASCAR from Jeff Gordon, to, of course, lots of racing in cars you'll never be able to afford on real world tracks you'll never visit.
Gran Turismo 5 certainly isn't perfect, but it still manages to succeed on a level never before seen in a racing simulator. If you want to know what went on during those six years of development, hop into your favorite supercar and take it for a spin around Nürburgring. As you open up the throttle on the track's long straightaway, taking in the beautiful scenery, the roar of the engine loud in your ears, you'll know you're playing something special. Or at least whoever you buy it for will.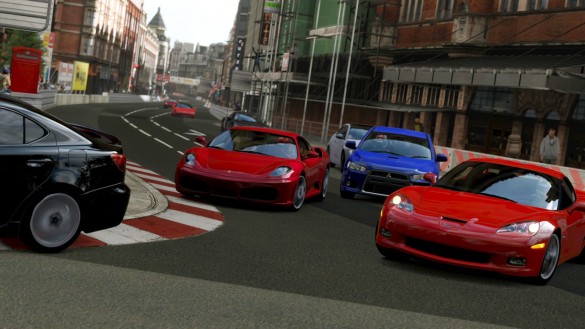 [ad name="Holiday Gift Guide 2010 – Goldeneye 007″]
Ah, the memories. Four kids huddled around a tiny TV. Each looking at their quarter of the screen, pretending not to look at anyone else's. Ripping each other apart with RCP-90s and blowing each other to bits with the dreaded proximity mine. That one kid who always (annoyingly) picked Oddjob. If you played video games in the '90s, you know exactly what I'm talking about: Goldeneye. The name alone brings back waves of nostalgia.
Unlike Perfect Dark for the Xbox 360, Goldeneye for the Wii isn't a direct port of the N64 classic. Instead, it's more of a re-imagining. Throughout the game you'll see some familiar areas, but there's plenty of new ground to cover and people to shoot. Additionally, Pierce Brosnan's visage has been replaced by the most recent actor to play James Bond, Daniel Craig.
Multiplayer can be enjoyed by up to four people on one console, split-screen style, or you can opt to take the more modern approach and play with up to seven other people online. All your favorite classic characters make an appearance (yes, even Oddjob), and even the one-shot-one-kill Golden Gun returns to wreak havoc. Any classic gamer on your list lucky enough to get it will certainly enjoy Goldeneye.
[ad name="Holiday Gift Guide 2010 – Scribblenauts"]
Before its release, the original Scribblenauts was set to be quite possibly the greatest game of all time (I might be exaggerating slightly). It allowed you to think of nearly any object, type it out, and watch it appear before your eyes. Particularly tough enemy got you down? Instantiate a time machine, take it back to the past, and ride back to the present on a freaking dinosaur and eat the problem away. Or just summon Cthulu and watch as one of the Great Old Ones demolishes your opposition. Only your imagination (and the game's nearly bottomless dictionary) stood in the way of solving all the puzzles the game had to offer.
Unfortunately, infuriating controls and some lame levels marred an otherwise enjoyable experience. This year, Scribblenauts is back, bigger and better than ever.
Super Scribblenauts manages to solve most of the problems of the first game. The annoying touch-based only controls of the previous installment can now be replaced by more precise d-pad controls if you wish, and the level design is much improved. Additionally, adjectives can now be attached to objects you summon. Why wield a simple sword when you can instead brandish a much more intimidating flaming sword? Almost anyone can find joy in playing Super Scribblenauts, making it a perfect gift.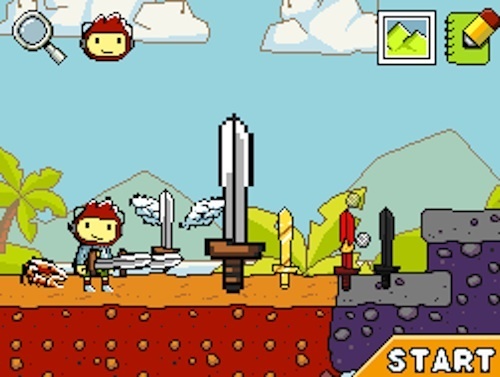 [ad name="Holiday Gift Guide 2010 – God of War"]
The God of War franchise is known for its stellar gameplay and polished gaming experience, and this excellence carries over to its latest mini form, Ghost of Sparta.
Just like in past incarnations of God of War, you play as the demigod Kratos, and like usual you're mad as hell.  Thankfully there are legions of mythical creatures just waiting for you to hack and slash them to bits and release some of your anger.
And boy is that hacking and slashing pretty. Somehow God of War's developers have managed to cram the graphical quality of a PS2 game into the aging hardware of the PSP. Ghost of Sparta is one of the must-have games for Sony's portable console, so it's a safe purchase for that special someone on your list.
And now for a bonus stocking stuffer idea:
If you're having a tough time deciding what to get, take the easy way out and buy the gaming equivalent of a gift card. All three of the major consoles have an online service where plenty of downloadable games are available for purchase, so they're bound to find something they like.
While iTunes might be most recognized for its music store, there are also plenty of games available. If your giftee owns an iPod Touch or iPhone, an iTunes gift card makes a great gift idea.
[ad name="Holiday Gift Guide – Xbox Points"] [ad name="Holiday Gift Guide 2010 – PlayStation Points"] [ad name="Holiday Gift Guide 2010 – Wii Points"]
That's it from me. If you have additional suggestions for good gifts for gamers, feel free to leave them in the comments section found below!
Image credit: wlodi