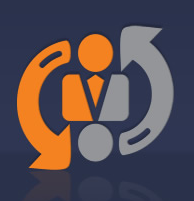 With everybody being so connected digitally these days, keeping basic information synced to all of your devices can be a nightmare. The nightmare can be even more difficult if you are the owner of an Apple computer and have a Windows or Nokia phone (and even worse if your understanding of network sharing is limited).
SyncMate by Eltima Software may be the key to solving this problem. SyncMate allows multiple computers to synchronize contacts, calendars, bookmarks, notes, iTunes / iPhoto, folders, and more. SyncMate runs on Windows or OSX, and also connects to Google accounts.
What will most people use this software for? Synchronizing contacts, bookmarks, and notes possibly between work and personal computers (if allowed by your employer). Others will enjoy the folder synchronization between a desktop and a laptop in the home (which I found most useful).
User Interface
The UI is fairly straightforward, but not as intuitive as most software put out for OSX. The large "Add Connection" button leads you to step one of the process where you will find a list of devices to use with SyncMate. I struggled a bit to setup the folder sync for close to a half an hour, and I am an IT person who likes to setup networks the hard way. After you complete the initial setup, however, it becomes much simpler.
Automatic reminders to sync can get annoying but are easy enough to turn off. The sync may vary depending on network speed and amount of data to be moved.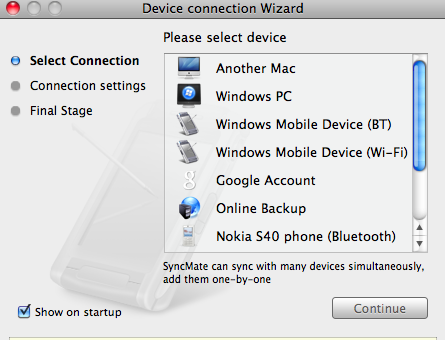 Windows Mobile
SyncMate appears to be an Apple substitute to Active-sync for the owners of a Windows Mobile device. We all know Microsoft and Apple don't always play nice, but thanks to this third party software they can.
Using SyncMate
With automatic sync enabled, you really don't have to deal with the software often. Contacts and calendars will be synchronized with ease. SyncMate also handled file duplication during folder synchronization very well. If the same file was changed on both computers, it will prompt the user and ask what to do. This will easily save a term paper from going down the drain.
Substitutes
With a Google account, things such as contacts and calendars can be synchronized with the applications in OS X. Google Chrome and Opera also have built in synchronization of bookmarks and themes built in.
iTunes has a nice home share feature. If both computers are linked to the same Apple account you can synchronize from iTunes itself.
Conclusion
Give SyncMate a try for yourself. I found it to be a nice tool that can help a new user keep multiple computers organized, but it might not cut it for more advanced users.