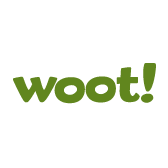 If you don't know what Woot! is, it's a site sells a single item each day (usually at an exciting price).  There are several different versions of the site – selling things like shirts, wine, and stuff for kids – but the original Woot! is the place where most of the action happens.
Every once in awhile, Woot! has a "Woot-Off", where they abandon their usual deal-a-day methodology and instead offer limited quantities of items, sold one at a time, with a new item appearing as soon as the current one is sold out.  Mixed into Woot-Offs are "bags of crap", which are blind grab bags full of random goodies.  At times, these bags of crap (lovingly referred to as BOCs) contain really nice things, like HDTVs and Xboxes.  Needless to say, it's really hard to get a bag of crap, and the woot.com website is usually completely unreachable when one comes up for sale.
If you enjoy the occasional impulse buy, you can use some extensions for your Firefox or Google Chrome web browsers to stay up-to-date on the latest deals (and even get a better chance at purchasing the fabled bag of crap).
Chrome has a great extension called Woot! Watcher that gives you all the functionality you'll need to grab deals on all of the Woot! websites.  This extension shows you deals from each website in a single window, and has optional notifications to let you know when new items are available.

If a Woot-Off is going down (which is happening right now, if you're lucky enough to read this article when it was posted), the Woot! Watcher icon turns into a flashing yellow siren.  You can set up optional Woot-Off voice alerts and notifications, and Woot! Watcher can even be configured to auto-buy bags of crap if they come up for sale (well, it doesn't automatically buy it for you, but it will take you to the purchase screen to speed up the process).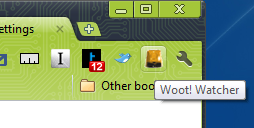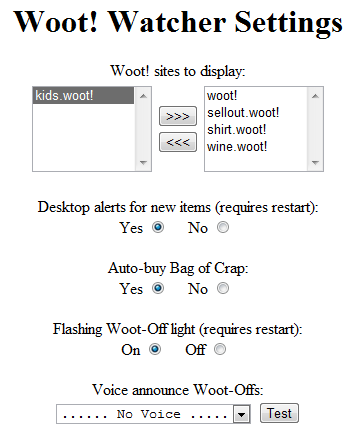 You will also see a percentage of how much stock the current item has left during a Woot-Off.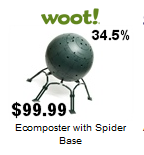 The same developer of previously mentioned Woot! Watcher for Chrome makes the same extension for Firefox, but it is much less elegant and requires a giant sidebar window to display the daily deals.  I had preferred the less obtrusive Woot Watcher add-on, but unfortunately it hasn't been updated since February 2010 and no longer functions properly.
Luckily, a different developer decided to pick up the abandoned Woot Watcher for Firefox add-on, fix the code, and add some new features.  You can download it at the Shopper Addon website, and to install it you'll have to click Allow at the top of your browser window.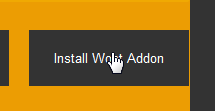 After restarting Firefox, today's Woot! deal will be displayed in the status bar of your browser.  Clicking the item's name will take you straight to Woot.com.  If a bag of crap happens to come up for sale, you will be automatically taken to the purchase page.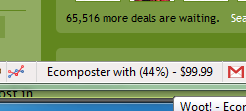 Conclusion
With these extensions, you should be well on your way to blowing your hard-earned cash on impulse purchases.  And if you're lucky, you might catch the Woot-Off that is going on right now.