The DivX team hopes to impress again, providing users with the highest quality video for their PC – this time taking aim at YouTube and other top video sites.  Some big features the DivX Labs are working into their newest web player are support for MP4 and MOV files, HTML5 support, and interoperability like decoding of H.264 video in Firefox.
Another thing the team is excited to announce is DXVA, or hardware acceleration support for playing videos online.  This DirectX acceleration should take a considerable load off your CPU and put your graphics card to work instead (see my own test below).
So, what does all this mean for you?  The goal is to offer your machine the best possible online video playback, and even control over some common metadata elements (like those nasty YouTube ads).  However, what you should know before deciding to try DivX's player is that this BETA is very much a test player.  DivX Labs recognizes many of the common bugs people are already experiencing and assures users those problems will be handled effectively in a full release.
Known Issues
From the DivX Labs website:
DivX Plus Web Player 2.1 Beta contains the following known issues:
Buffering always shows 0% when first loading an MP4 file
Web Player will always buffer at least the first 2MB of data for any MP4 file regardless of bandwidth or bitrate
Formatting for the DivX HiQ bar is occasionally too wide and causes part of the bar to wrap around to the next line
DXVA H.264 decode acceleration may experience graphic corruption with older ATI and nVidia video card drivers
Web Player does not change video frames while seeking if DXVA is enabled
DivX HiQ currently only supports videos with an available MP4 formatted version of the file
Using the HiQ Web Player
In my personal opinion, DivX has made some big steps in improving web video, though I sometimes wonder if it's worth my download time.  I get the popular "buffer hang at 0%" whenever I try to load an MP4 file, and the player has crashed both Firefox and Chromium browsers, several times each.  Many other strange bugs and oddities are prevalent in the current player, but like I said before, you're really downloading a test product with this BETA.  The good news is that (for the most part) the HiQ web player does work, and the improvements being made really leave me anxious for a solid build in the future.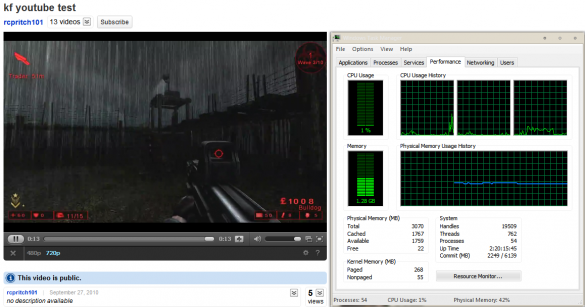 DivX welcomes those who download the BETA to provide feedback in their forums.  Everything I've already mentioned, including more info on the player, can be found right from the DivX Labs main page with an HTML5 demo (below) and currently-supported sites.  To download the current 2.1 BETA build now, click here.