If you've ever tried opening an RSS feed in Google Chrome, you may have been dismayed to find that it does a horrible job of handling them.  RSS feeds (like ours) are meant to provide an easy subscription method to a website, allowing you to view your favorite websites all in one place with an RSS aggregator like Google Reader.  I use Google Reader to help manage the dozens of sites I follow for personal interest and article ideas.
Most browsers can interpret RSS feeds properly and give you the option to subscribe to the feed with several services.  Chrome, however, just dumps a bunch of text to your screen.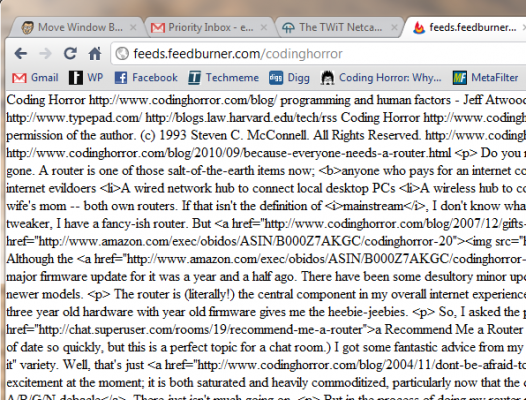 Luckily for us, there's an easy fix for this problem.  Head over to the Chrome Extensions Gallery and install the RSS Subscriptions Extension (by Google).  This extension was developed by Google (as you might have guessed) and adds some much-needed functionality to Chrome.
After you've installed the RSS Subscriptions extension, a small RSS notification will appear in Chrome's omnibar when the site you're viewing has an RSS feed available.  Clicking this icon will take you straight to the site's RSS feed.
RSS Subscriptions will also kick in whenever you access a feed directly.

You can choose from four popular RSS readers: Google Reader, iGoogle, Bloglines, and My Yahoo. If you use a service not listed, simply click the Manage option to add your own.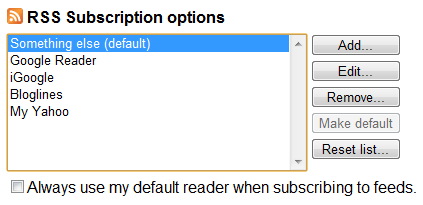 From now on, Chrome will properly render your RSS feeds!
If you enjoyed this article, make sure to check out the rest of our articles about web browsers and Google Chrome.