Welcome to another exciting edition of our Android App Roundup!  This week, I'll be taking a look at a handy weather radar app and Kevin will be telling you about a widget that puts the standard Android power control widget to shame.
Have an app you'd like to recommend to us?  Post in the comments at the end of this article, send us an email, or hit either of us on Twitter!
Evan's Pick – Rainy Days
I check the weather on my phone a lot, and the ability to pull up weather radar at my fingertips saved me and my friends from getting destroyed by a thunderstorm on the lake this summer.  There are a lot of solid weather apps in the Android Market, but if you just want to check out weather radar, Rainy Days is the app for you.
Rainy Days is a very simple application.  Just open it up, press Settings, and select My Location to display the current radar in your area (you might need to enable additional location services in Android – I found that it wanted to use network location instead of GPS).  Standard touchscreen controls work just the same in Rainy Days: pinching and double tapping zooms, and you can drag across the map to move.  The slider bar at the bottom controls the opacity of the radar, which is useful if you want to see specific locations under a storm.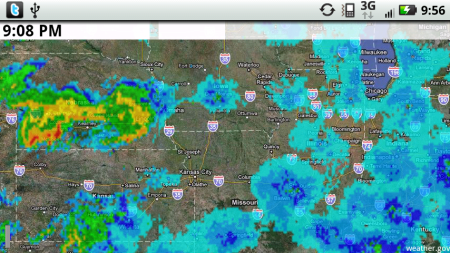 Rainy Days cycles between the last hour of radar footage, which can be paused by touching the screen.  You can control animation speed, automatic location use, and graphical options in the application's settings.  Rainy Days supports the United States, Western Europe, Spain, and Scandinavia.
Search for Rainy Days in the Android Market or scan the barcode below to download!

Kevin's Pick – Extended Controls
Android already has a pretty nice built in power control widget that allows you to enable and disable things like Wi-Fi, Bluetooth, and GPS. Having one touch access to those parts of your system is incredibly convenient, but wouldn't it be nice to be able to control even more aspects of your phone? Thankfully, there is a widget on the Market that fills that exact role.
Extended Controls will set you back 0.79€ (about $1.20 as of this writing), but the convenience it offers is well worth the small cost. After installation, long press on an open spot of your homescreen and go to the Widgets menu. In here you'll find various sizes of the Extended Controls widget, ranging from 1×1 to 1×4. After selecting the size, you're taken to the setup menu. From here you can adjust the look of the widget (I prefer the defaults, but to each his own) as well as manage the various controls of the widget.
In addition to the five options found on the built in power control widget, Extended Controls gives you access to 20 extra settings. With a single touch you can now toggle options like USB tethering, autorotate, the lock pattern, and 4G.  If you have rooted your phone, you can set a button to reboot your phone, either normally or into the bootloader or recovery mode.
As you add controls, a preview of what the widget will look like can be seen at the top of the screen. Once you're satisfied, click Apply to add the widget to your homescreen.
If you'd like to see what Extended Controls has to offer, scan the QR Code below to be taken directly to its Market page.