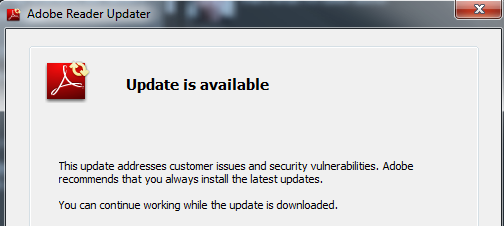 It's only been a few weeks since I wrote my last article about an update that patched 32 critical security holes in Adobe software, but here I am again.  Since you're all my internet buddies, I'd like to let you know that Adobe just released a new patch for their software but it might only notify you if you manually check for updates.
Sure, it seems odd to me that they would say things like "This update addresses customer issues and security vulnerabilities" but make you find the update for yourself.  You know, because you're always opening Adobe Reader, clicking Help, then selecting Check for Updates for fun.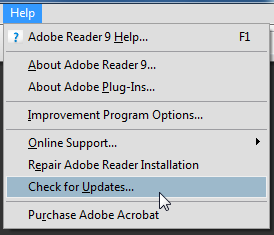 This specific update addresses a few vague issues, but I'd still recommend doing it right away.  For more information, check out Adobe's Release Notes or read the specific update information below.
Enhancements for security (including a zero-day fix), performance enhancements, bug fixes, improved browser support, and Updater improvements.
Internet high-five goes to Steve Gibson for this tip.