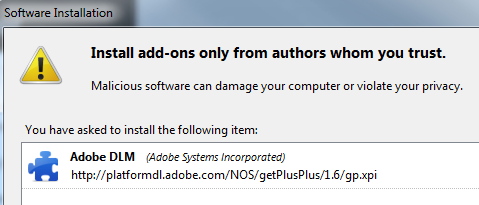 Most of us use Adobe Flash, that's simply a fact of the internet.  YouTube, Hulu, Pandora, and dozens of other sites currently use Flash to provide you with interactive media and applications, and until HTML5 (hopefully) gives us a viable alternative, we're stuck with it in many ways.
Don't get me wrong – I don't mind Flash.  What I dislike is when Adobe starts forcing me to install an intermediary application, Adobe DLM, to install Flash instead of directly installing the software.  For those of you that have been on the internet for a while and remember "download manager" applications, when was the last time you needed one in the age of high speed internet?
I'm sure Adobe has plenty of reasons for wanting you to download and install two applications instead of just one, but I'm not having it.  And unfortunately for all of us, the default (and only obvious) way to install Flash is to install the Adobe DLM plugin to your browser.  You'll probably notice this little yellow bar at the top of your browser when you try to install Flash:

Even I am tempted to quickly grant access to Adobe DLM so I can get my Flash fix on.  But you can install Flash without Adobe DLM with just a few steps:
Installing Adobe Flash Player without Adobe DLM
Step 1: Instead of installing Flash from the normal installation page, head to the Flash troubleshooting page.  You can alternatively get to this location from the normal installation page by clicking the link "click here for troubleshooting information" as shown below.

Step 2: On the troubleshooting page, click the link that says "Troubleshoot Flash Player installation".  I haven't tested this in other operating systems, but I was presented with a specific Windows link.  Please post in the comments if you're using another OS and see something different.

Step 3: Skip all the steps presented on this page and instead click the link that says "Download Flash Player with the manual installer".

Step 4: Select the correct file for the browser you are using.  One file is for Internet Explorer, the other is for all other browsers.

Now just install Flash as usual.  It was a little more work, but now you are only installing the software you wanted to use in the first place.  Hooray!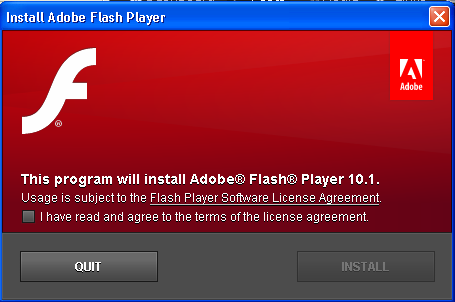 If you're using Firefox and have installed Flash in the past, you can check to see if Adobe DLM was installed by going to Tools –> Add-ons and locating it in the list.  From this menu it can be disabled and/or removed.