After a few delays, I was finally able to get my hands on Motorola's new 4.3″ Android smartphone, the Droid X.  This is a really impressive phone, but there is one thing you need to watch out for when you first use it: the "Pull" tab is not meant to be removed!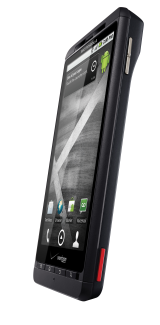 Before you insert the battery into the back of the phone, you'll notice a yellow tab with the word "PULL" written on it.  Taking this simple instruction literally, I began firmly pulling on the tab (thinking it was something that had to be removed before the phone would be operational, like the tape on new printer ink or those little plastic tabs on children's toys).  Luckily for me, I noticed something wasn't quite right and stopped before I pulled the whole plastic piece out.
The "PULL" tab is actually there so you can remove the battery after you've inserted it into the phone.
The Droid X's battery really snaps into place, and without this tab it is very difficult to remove (although I've been told you can use the battery cover itself to remove the battery if you accidentally tore out the pull tab).
Dozens of people have assumed the Pull tab was intended to be completely removed, and doing so accidentally pulled out the entire black plastic piece that exists between the battery and the phone itself.  Most users have reported that the phone still functioned after this happened, but like most things in mobile devices, that plastic was probably there for a reason.  If you're careful, you should be able to get the plastic backing into the battery recess after you've removed it.
Initial rumors speculated that accidentally pulling the tab out would void your waranty, but this has been found to be untrue.  Laura Merritt, PR manager for Verizon Wireless, told Examiner.com in an email:
"If the customer removes the tab, the warranty is not affected. If they can't get their battery out, I suggest that they take it to one of our stores for assistance. They don't want to damage the phone or battery trying to remove it."
So there you have it.  If you're thinking about getting a Droid X, it's a wonderful phone – just be sure not to rip out anything important before you first use it.