Dearest Android readers:  Thanks to a fantastic suggestion, Kevin and I are starting a weekly feature about some of our favorite Android apps.  We'll be covering apps we love, apps that improve our phones, games, and newly-released apps that are worth checking out.
If you have any suggestions, hit either of us on Twitter, send us an email, or post in the comments at the end of the article!
Kevin's Pick – NewsRob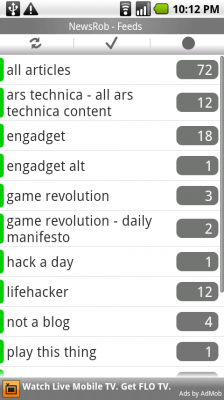 Since Google hasn't released an official Reader app yet, Android users can either use the mobile Reader website or download an app that syncs with Reader. I prefer the latter and have been using one called NewsRob since I got my phone, and it suits my needs perfectly.
NewsRob comes in two flavors, free and Pro. The free version is ad-supported and lacks some of the more advanced features of the Pro version, such as widget support. If all you plan on doing is checking your feeds, though, the free version will work just fine.
Synchronization can be configured through the options menu. There are options to sync automatically, only when connected to Wi-Fi, or only on demand. You can also set the time interval between synchronizations. In addition, NewsRob can be set to download only text, text and images, or text, images, and the web page the item points to.
Navigating NewsRob is as easy as it gets. Your feeds are broken down into any folders you might have set up in Reader, and then into individual feeds. Cycling through the items in a feed is handled by the volume buttons or on-screen arrows. Getting to the web page of an item is as simple as clicking its title. The page is rendered directly in NewsRob, so it isn't even necessary to have a separate browser open!
NewsRob can be downloaded from the Android Market by scanning the QR Code below with the Barcode Scanner application.

Evan's Pick – 4 teh birds
Since Kevin went with something useful, I decided to go with something fun and pointless.  4 teh birds (nope, not a typo) is a super simple game for Android where clusters of cute, chubby birds fall from the sky, and your objective is to match three same-color birds together.
This game sports a fantastic physics engine, so those bulbous little birdies bounce all over the place as you try to match them up.  This game has wonderful artwork and animation, making it a great way to waste a few minutes during the day.
4 teh birds has several game modes, including time attack and survival.  In Hey, not too rough mode the clusters of birds can always be moved, but in Time Attack and Survival modes the birds can only be moved for a limited amount of time.  This quickly brings your game to the panic-inducing end game of Tetris when you've got a screen full of birds and no way to match them all up.
Overall, this game is addictive and has some of the best art direction, albeit simple, that I've seen in an Android game.  And hey, who doesn't enjoy throwing obese birds around every once in awhile?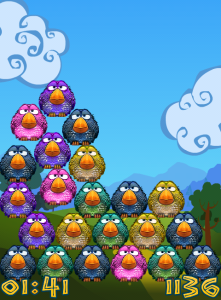 4 teh birds is free and can be found in the Android Market, and can also be downloaded by scanning the code below with the Barcode Scanner application.

Image credit: lwallenstein