Do you like websites that utilize Adobe Flash Player technology like Hulu and YouTube?  Do you simultaneously dislike having your computer hacked without your knowledge?  Well, do I have some important information for you!
A patch for Adobe Flash Player was recently released which patches 32 security vulnerabilities in a recent version of the application, version 10.0.45.2.  I'll allow Adobe to explain it to you:
Critical vulnerabilities have been identified in Adobe Flash Player version 10.0.45.2 and earlier. These vulnerabilities could cause the application to crash and could potentially allow an attacker to take control of the affected system.\
And what does "critical" mean, you may ask?
A vulnerability, which, if exploited would allow malicious native-code to execute, potentially without a user being aware.
So if this information has you relatively concerned, I'll go ahead and give you the information to secure your computer.
Updating Adobe Flash Player
Step 1: First of all, you can check what version of Flash Player you are currently using here.  If you're using version 10.0.45.2 (or anything earlier than that), you should install the patch.  If you've already updated to the release candidate of Flash Player 10.1, Adobe says there appear to be no vulnerabilities with that version.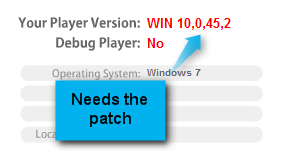 Step 2: You can download the newest version of Flash Player straight from Adobe.  Simply click the yellow Agree and install now button to start the download.
Conclusion
Besides fixing a bunch of security holes, the newest version of Flash Player has many great new features such as better performance and power management, better video playback (including hardware acceleration), and multi-touch support.  For more information about the security holes in Flash Player version 10.0.45.2, check out Adobe's security bulletin.
Image credit: dullhunk