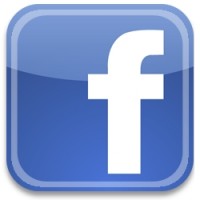 As I rapidly learned in my fraternity days, you can never be too careful with your unattended computer.  All it takes is for you to leave your door unlocked, forget to log out of a public computer, or leave your laptop somewhere, and a stranger can have complete access to your entire Facebook account.
Even though these security breaches are usually minor and only result in you having a wildly inappropriate status update (there have been many shocked parents, I assure you), there is some real danger when others have access to your account.  Anything in your profile you have hidden from your friends is accessible to the intruder, and they will have full access to the messages in your inbox as well as your friends list.
Use your imagination to consider what someone could do with uncontrolled access to your profile…

Luckily for all of us, Facebook has a very simple way to be notified if somebody else logs into your account.  Here's how to do it:
Using Facebook Account Security
Step 1: In Facebook, click Account and then Account Settings.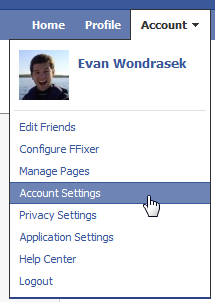 Step 2: Click change next to Account Security.

Step 3: Click Yes under Would you like to receive notifications for logins from new devices?.  You also have the option to receive these notifications on additional devices you have added to your Facebook account, such as mobile phones.  Click Submit.

Step 4: Log out of Facebook and log in again.  This time, you'll be asked to name the computer you're using.

Now whenever a computer or device accesses your account, the user will be required to register the device and you'll receive instant notification when this happens.  You can also go back to the Account Security menu to see all devices that have logged into your account.  If you don't recognize the name of a device, it's time for a password change!

If you enabled SMS notifications, you'll instantly receive a message on your mobile device with an alert.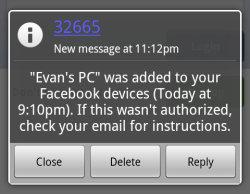 You will also receive a notification when somebody logs in with a mobile application, like Facebook for Android or iPhone.

How to stop somebody with physical access to your computer
As it was brought up in the comments, what can you do if somebody has physical access to your computer?  For maximum security, you should follow these additional steps:
In Step 4 of the previous section, leave the Don't ask me again from this computer box unchecked.  This means that anybody who uses that computer will need to identify themselves.  Make sure to use a unique name for your computer so nobody else could guess it and trick you (instead of Evan's PC, I might instead use E-PC1 which is harder to guess).

When you log in to Facebook, leave the Keep me logged in button unchecked.  This will require you (and any intruder) to manually log in in to Facebook.  In order for this to be truly effective, it is important to disable any password managers and do not allow your browser to store your login information.

These additional steps will make it much harder for somebody with physical access to your computer to log in to your Facebook account.
What to do if your account has been compromised
Facebook provides some very simple steps to secure your account if you feel it has been accessed by an unauthorized individual.  This information is also included in the notification email.
Log in to your Facebook account.
Click the Account tab at the top of the screen and select "Account Settings" from the drop-down menu.
Scroll to the Password section of the Account Settings page.
Click the "change" link on the right and follow the instructions.
Conclusion
Activating Account Security is one of the easiest and most effective ways you can safeguard your Facebook account and privacy.  Sure, it's no big deal when somebody changes your profile picture, but it's always best to plan for the worst and keep your account as secure as possible.
Image credit: marcopako