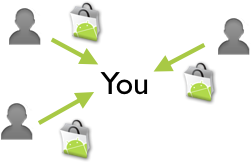 While there are plenty of great applications available for Android, it can sometimes be difficult to find them. The Android Market doesn't do a very good job of showcasing applications, so you'll usually see the same twenty or so apps on its front page. If you want to find those buried gems, you're forced to scroll through an endless list and click on the applications that appear promising.
Thankfully, there's an application that can help relieve you of this tedium. AppAware tracks all application installations, upgrades, and uninstallations for users who have installed AppAware.  This allows you to view which applications are being installed the most and is usually a pretty good indicator if they are worth checking out.
AppAware is incredibly easy to use. On the main page you can see what applications other people are installing, updating, and uninstalling in real time. A check mark is placed next to apps you already have installed. By long clicking on an entry you can see more options for it, including a link to its Market page.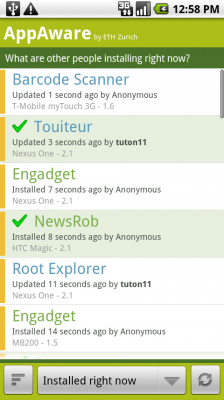 Clicking on the bar graph in the bottom left brings you to a list of the most active applications. You can see which applications are being installed, updated, and removed the most in the past hour, day, or week. You can also check out the list of Featured Apps, which estimates the best applications based on the number of installs and removals.
Clicking the Menu button on your phone while on the main page takes you to the settings page where there are a couple of entries worth noting. You can connect AppAware to your Twitter account, which not only allows you to tweet your activity, but also associates all your activity with a profile that others can view.
For those with privacy concerns, the settings page also lets you disable the sharing of your application activity completely. You'll still be able to see what others are installing, but your own data won't be collected.

AppAware is a free download for Android-based devices and can be found by searching the Android Market for AppAware or scanning the code to the right with the Barcode Scanner application.
Do you know of any other great Android applications? Let us know about them in the comments!
Image credit: AppAware