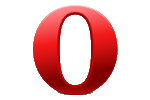 Many people are aware of the instant popularity of the Google Chrome web browser, taking just over 3% of the browser market share upon its release.  Opera, a competitor in the web browser market since 1996, has only achieved a 2% market share in the past 14 years.  The Opera developers aim to get back into the web browser market with the 10.50 release of the Opera web browser.
The Opera 10.50 web browser boasts some features that all internet users will enjoy.  I'll go over some of the major features of Opera 10.50 in this article.
Faster JavaScript Performance
Having the fastest JavaScript speeds is a major factor in why Google Chrome has been successful.  With the continued move to feature-rich, web-based applications, more load is being placed on the web browser.  Opera 10.50 is setting the bar higher by boasting to have the fastest JavaScript performance yet, performing 10 times faster than the previous version of Opera.
Opera Turbo
Opera Turbo is a feature that can help decrease page load times if you happen to be on a slow connection.  Using Opera's compression servers, web pages are compressed up to 80%, allowing your pages to load faster.  Opera Turbo also helps to decrease page load times by preventing Flash content such as YouTube videos from loading until you click on them.  Image sizes are also reduced to decrease page load times.  Opera Turbo features an automatic mode, which will sense if you network connection has become slow, and enable Opera Turbo.
Visual Tabs
Opera already supported tabbed browsing, but a new feature in version 10.50 are Visual Tabs.  Visual Tabs allow you to see a preview of the open tab, along with the page title.  Visually recognizing the tab can sometimes be easier than referring to the page title.
Opera 10.50 also offers tab previews.  Hovering the mouse over a tab will show a quick thumbnail of that tab.

Speed Dial
Speed Dial allows you to quickly access your favorite sites whenever you open a new tab.  When opening a new tab, the Speed Dial page is shown with your 9 favorite sites.  Speed Dial pages can easily be changed or removed from the Speed Dial page.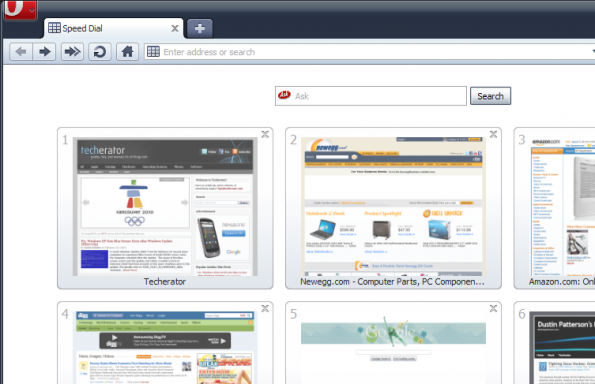 Mouse Gestures
Mouse Gestures are a way to quickly perform common web browser actions with a right-click and movement of the mouse.  Some common browser actions you can perform with Mouse Gestures include opening new tabs, closing tabs, previous page, next page, reload, home, and many more.
Opera Link
Opera Link is a feature included in Opera 10.50 that allows you to sync your Opera browser information between multiple computers.  Opera Link allows you to sync bookmarks, Speed Dial, notes, history, and searches, allowing you to have them available wherever you are.  If you use Opera at home and at work, Opera Link is a great way to keep the same browsing information synced between the two computers.  Opera Link is also a great way to backup your browser information automatically.
Integrated Email
One of my favorite features of Opera 10.50 is the integrated email support.  Opera integrated email supports both POP and IMAP email and is easily configured.  Once your account has been added, your email is automatically fetched and displayed.  Opera's integrated email also allows composing and sending of emails with the feature rich editor.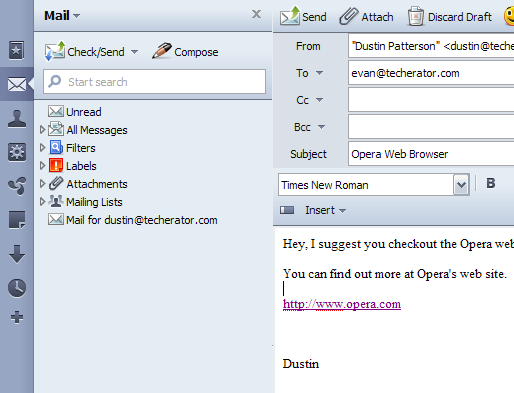 Opera Unite
Another promising features of Opera 10.50 is Opera Unite.  Opera Unite is a set of extension applications that add functionality such as photo sharing, music streaming, and file sharing, all from your browser.  Opera Unite already features a wide list of community developed applications with more constantly being developed.
Opera Widgets

New to Opera 10.50, Opera Widgets allow you to run your favorite internet service outside of your browser.  Acting like desktop applications, Opera Widgets allow you to access services like Twitter and Facebook even when your web browser is closed.  Opera features many community developed widgets, with more being actively developed.
Conclusion
If you're looking for a fast, full-featured web browser and want to try something other than Firefox and Chrome, then I suggest you give the Opera 10.50 a try.  I'm sure everyone will find something they like about the Opera web browser.
Have you used Opera as your web browser?  What is your favorite upcoming feature of Opera?  Let us know your thoughts about Opera by commenting below!