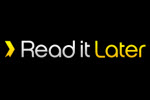 I'm constantly running across interesting articles and posts I want to save for later reading.  Bookmarks work well enough, but I don't need to save these websites for long-term use – I want to be able to quickly check them out later when I've got free time.
Read It Later is a free add-on for Firefox which allows you to eliminate bookmark clutter with sites that are only of one-time interest to you.
When you first launch Firefox after installing Read it Later, you'll have the option to log in or create a free Share It Later account.  Creating an account lets you synchronize your saved paged with any computer or device that supports Share it Later, including the iPhone, iPod Touch, iPad, and  Android-based phones.
Creating an account isn't mandatory though, so if you don't need synchronization just click the Use Read It Later without an account link.
After you've created (or not created) an account, using Read it Later is simple.  When you come across a website you want to save for later, simply click the icon in the toolbar.  This adds the site to your reading list.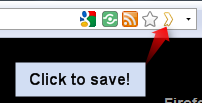 To view sites you've saved, click the Read It Later button in the toolbar.  If you're looking for a specific link, you can use the search box to filter by URL, name, or tag.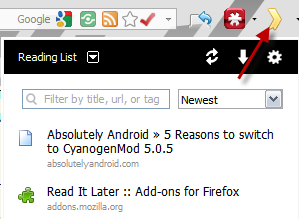 If you plan on traveling or going somewhere without an internet connection, you can click the arrow icon to go into Offline mode.  This will save any sites in your Read It Later list to your local computer.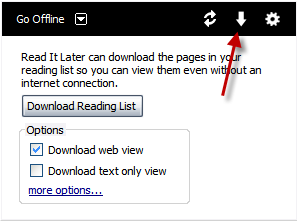 Once you've read a link in your Read It Later list, just click the red check mark to mark it as read and it will be removed from the list.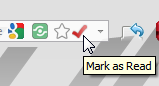 Read It Later works great for me because it gives me an easy way to save article leads and information for later and doesn't fill up my bookmarks folder.  [Read It Later – Firefox Addons]