Songbird, built by former Winamp, Netscape, and Firefox designers and developers, is fast on it's way to becoming a large competitor in the media player category.  The free and open source Songbird has been in development since early 2006.
Recently released by the Songbird team is version 1.4.2 of the Songbird media player.  Although Songbird is not widely known, mainstream features are being added with each release.  Still in its infancy, Songbird already has many features to offer to users.
Download and Install
Before you get started, it will be necessary to download and install Songbird.  Songbird is available for Windows, Linux, and OS X.  Visit the Songbird website and download the correct version for your system.
After Songbird has been installed the setup assistant will launch to help you configure Songbird.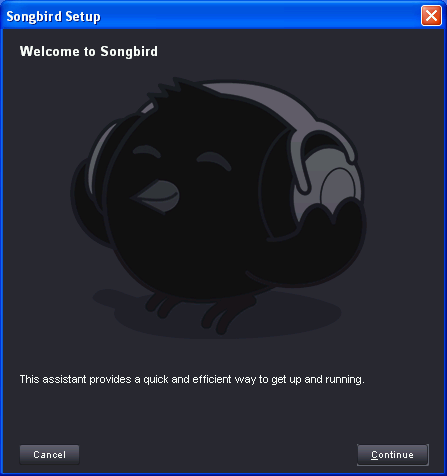 You will want to point Songbird to the location of your music files on your computer.  Checking the "Watch this directory for changes" checkbox will ensure that Songbird is notified if any files are changed within the specified directory and will update the library to reflect the changes.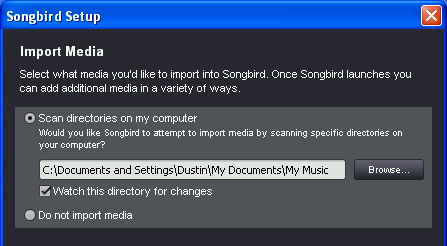 Songbird has the ability to install add-ons just like the Firefox web browser.  Add-ons allow users to add to the functionality and customize Songbird to their own liking.  The process for installing add-ons in Songbird is similar to installing add-ons in Firefox.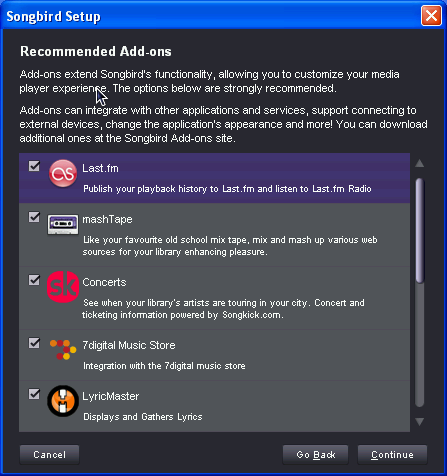 When finished with the setup assistant, you will be brought to the welcome screen.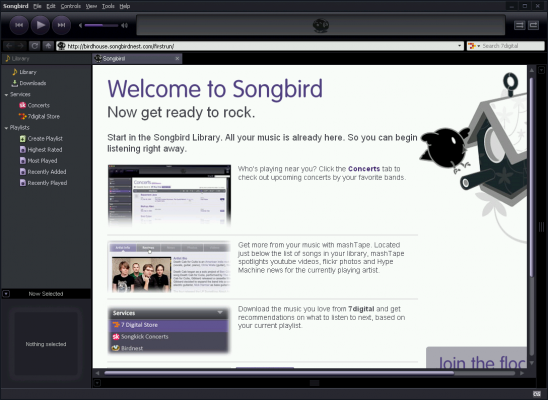 Layout
Once you have finish the initial setup of Songbird, you will be brought to the program's main window.  Songbird is launched by default with a list view of your music library, as shown below.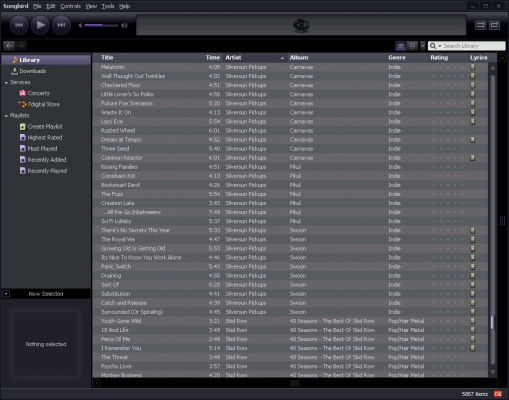 List view is a very clumsy layout for Songbird.  Depending on the size of your music library, it may be difficult to easily browse through it.  Thankfully Songbird includes another layout, Filter Pane View.  With the Filter Pane View, your music library is broken down by Genere, Artist, and Album, making it extremely easy to navigate through your library.  The Filter Pane View is shown below.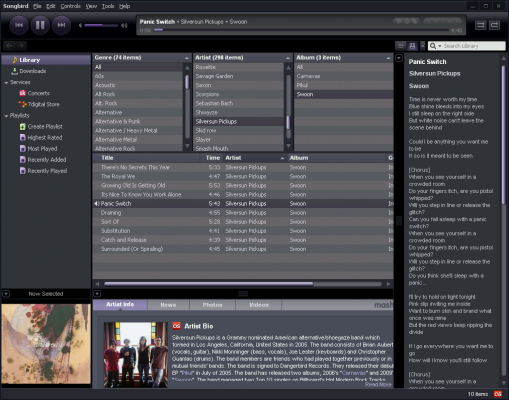 To switch between the layouts, click the appropriate button next to the Songbird search box as shown.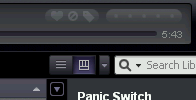 Feathers
Songbird includes a feature call Feathers.  Also known as skins, Feathers give you the ability to chose a different color scheme for Songbird.  To find other Feathers for Songbird, click View > Feathers > Get More Feathers… and a new tab will open within Songbird showing other Feathers available for download.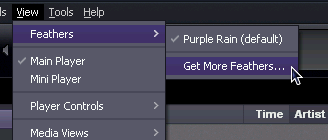 Add-ons
Add-ons are a great way to add more features and functionality to any software.  Recently, the number of add-ons available for Songbird has significantly increased.  To view or install add-ons, navigate to Tools > Add-ons… and the window shown below will appear.  Clicking the Get Extensions button will open a tab within Songbird that will allow you to browse the available add-ons.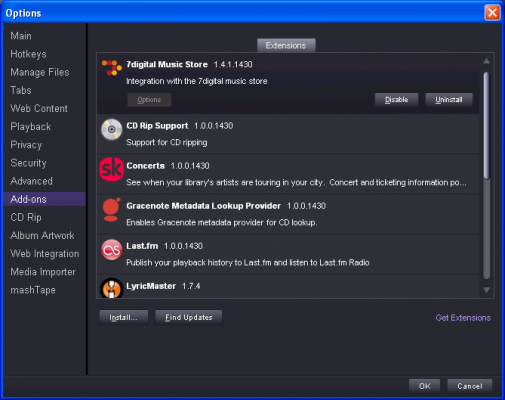 Some of my favorite add-ons for Songbird include:
Portable Device Support
An important feature in Songbird is it's portable device support.  Since early in it's development, Songbird has supported syncing to popular devices such as Apple's iPods and Creative Zen portable devices.  Take a look at the following pages to see if you portable device is supported.
Other Features
Since early in it's release, Songbird has supported importing an iTunes library.  If switching to Songbird as your primary media player, this can be an important step as you will be able to save your current library and playlists.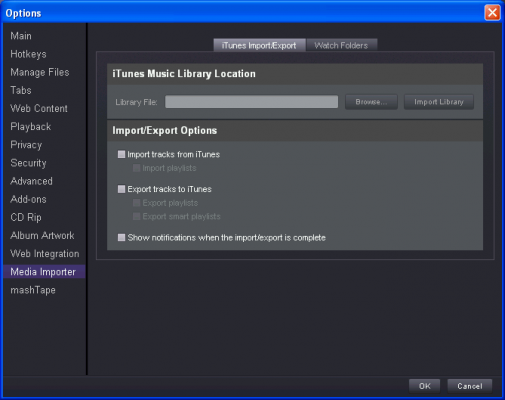 Just added in Songbird 1.4.2 is CD ripping support.  Available formats to save ripped CDs include Ogg, FLAC, and WMA.  Saving to MP3 is not supported.  Only the Windows version of Songbird supports CD ripping.  The CD ripping add-on is required.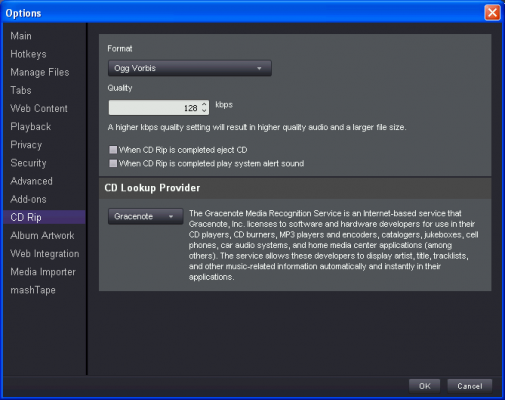 Added in Songbird version 1.2 is an equalizer.  This great addition allows for users to have more control over sound output.  To open the equalizer navigate to Controls > Equalizer… and the window shown will open.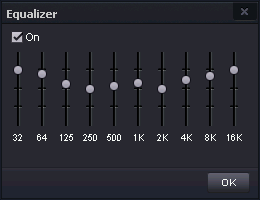 Although the main view of Songbird is feature filled, it is quite large and can sometimes be in the way.  Songbird has an added Mini Player that will shrink down the program to the most basic functions, shown below.  The Songbird Mini Player is a great way to have Songbird in the foreground so it can be seen, but small enough to be out of sight and easily moved. To access the Mini Player, navigate to View > Mini Player.

Final Thoughts
I've been using Songbird as my primary media player since version 0.7 and in that time I've seen many improvement in the media player.  The latest release is significantally faster and resource friendly.  I have been seeing around half of the memory usage with Version 1.4.2 than with any previous version.
If you're looking to try a new, featured filled media player and support open source software at the same time, then I suggest that you give Songbird a try.