Methods of transferring and sharing files have come a long way from the days of 3.5″ floppy disks.  Once limited to 1.44 MB at a time, we are now able to use flash drives to easily transfer around 32 GB (approximately 22000 times as much data) at greater transfer speeds than before.  Although physical media allows for large data transfers, the internet itself offers great file sharing services such as Dropbox.
Dropbox offers the next generation of file transfer and sharing with a multi-platform software that is available in both free and paid versions.  The different pricing options are show below.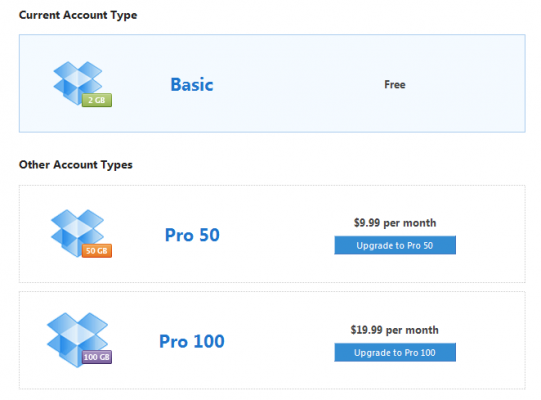 Dropbox is available for many different platforms including:
Windows
OS X
Linux
iPhone
Web interface
Multiple platforms can be added to a single Dropbox account.
How it Works

When files are added to any of the Dropbox folders, they are automatically transferred any other device that is joined to the Dropbox account.  Users are then able to open their Dropbox folder on another computer and see the same files.  Dropbox also keeps previous versions of files.  To restore a previous version of a file, simply right-click a file and select Previous Versions from the Dropbox menu.
Public Folder

Automatically included with your Dropbox is a Public folder.  Anything place within the public folder has the ability to be shared with anyone across the internet.  To share a file in the Public folder, right-click the file and select Copy Public Link from the Dropbox menu.  Paste the link into an email, instant message, or website and your file will be publicly available.
Shared Folders

One of the most useful features of Dropbox is the ability to have Shared folders with other Dropbox users.  Shared folders works just like the rest of Dropbox.  Any files placed within the shared folder are updated on all of your Dropbox connected devices along with all of the Shared folder users' connected devices.
Dropbox Tips
So now that you know about the file sharing capabilities of Dropbox, you may be interested in some of the other creative ways people are using their Dropbox:
Host an HTML website
Sync your passwords with KeyPass
Sync your Firefox profile
Sync your Pidgin Profile
Above are just a few of the ways that you can use Dropbox.  Checkout the Dropbox Wiki for a list of tips and tricks.
How has Dropbox helped you?  Do you use Dropbox in any creative ways?  Let us know by commenting below.