I noticed in tech blogger Robert Scoble's recent review of the Motorola Droid that many people are unaware that YouTube videos are set to a low quality setting by default on Verizon's newest Android-powered phone.  I can't say exactly why Motorola decided to do this (I'm sure the guy in charge of Verizon's bandwidth was happy about it) – but it makes YouTube videos look really terrible.
Enabling high quality YouTube playback is very easy, but the option to enable it is hidden in a few menus.  It is mentioned in the "Getting Started" guide provided with the phone, but who reads those things, anyway?
Enabling High Quality YouTube
Step One: Touch the Menu button (it's the touch-sensitive button with the series of parallel lines).  Then select the 'More' button.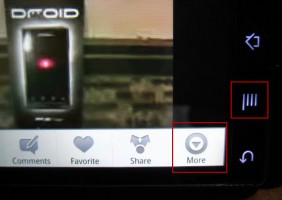 Step Two: Select the 'Watch in high quality' option.  Your video will now reload in beautiful, high quality.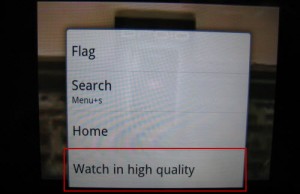 It's a bit of a surprise that high quality playback isn't available by default, especially since one of the Droid's biggest selling points is its 3.7″ high resolution screen.  Check out the comparison below: