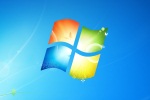 Windows 7, Microsoft's newest operating system and successor to the ill-famed Windows Vista, was released today after becoming the biggest pre-order product of all time on Amazon UK.  You may have already been following as we showed you how to install Windows 7 on a virtual machine, how to dual boot Windows 7 with your current operating system, and how to install Windows 7 from a USB flash drive for netbooks.
If you're wondering if your computer is capable of running Windows 7, you can check out the Windows 7 Upgrade Advisor which will tell you exactly what you can expect with the new operating system.  As a general rule: if your computer can run Windows Vista, it will run Windows 7 just fine.  Many computers capable of running Windows XP can also use Windows 7 (just make sure you have 1 GB of RAM).
Still haven't taken the leap?  You can purchase Windows 7 from Amazon, and make sure to check out the rest of our Windows 7 coverage.  We'll have many more Windows 7 articles coming in the future!
Windows 7 System Requirements:
1 gigahertz (GHz) or faster 32-bit (x86) or 64-bit (x64) processor
1 gigabyte (GB) RAM (32-bit) or 2 GB RAM (64-bit)
16 GB available hard disk space (32-bit) or 20 GB (64-bit)
DirectX 9 graphics device with WDDM 1.0 or higher driver